My Sister's Keeper Explores Life, Death and Moral Dilemma
Christa Banister, Crosswalk.com Contributing Writer
Friday, June 26, 2009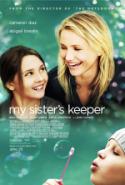 DVD Release Date: November 17, 2009
Theatrical Release Date: June 26, 2009
Rating: PG-13 (for mature thematic content, some disturbing images, sensuality, language and brief teen drinking)
Genre: Drama
Run Time: 109 min.
Director: Nick Cassavetes
Actors: Cameron Diaz, Abigail Breslin, Jason Patric, Sofia Vassilieva, Heather Wahlquist, Evan Ellingson, Alec Baldwin, Thomas Dekker
For the uninitiated: If you're looking for a happy-go-lucky beach read, Jodi Picoult's novels are never the way to go. They're tearjerkers, but never in The Notebook sense.

Instead of focusing her creative energy on sweeping stories of long lost love à la Nicholas Sparks, Picoult crafts twisty tearjerkers that revolve around dysfunctional families. And her best work, like the 2004 bestseller My Sister's Keeper, also poses timely ethical questions that ultimately leave the reader with plenty of food for thought.
In the past, several of Picoult's novels have been adapted for the small screen, namely for slightly cheesy Lifetime movies, and the subject matter has generally had "made for TV" written all over it. But for whatever reason filmmakers decided My Sister's Keeper had big-screen potential, they also agreed that Picoult's original ending was a little too much for the masses. So in a move that's been widely—and passionately—debated online, the story's conclusion has been softened a little.
For those concerned about the integrity of the story, however, it's difficult for a casual Picoult fan like myself to decide if the new ending really makes that dramatic of a difference, considering how truly sad the story is in the first place. Really, there are no happy endings when a child has cancer in the advanced stages, and My Sister's Keeper doesn't hold back on how awful and debilitating the disease really is. In addition to capturing the dramatic physical changes that inevitably come as the cancer spreads and the retching that results from chemotherapy sessions, it also shows the 24/7 level of dedication that's required to care for the afflicted—and how family members suffer in the wake of its all-consuming nature.
In a bit of casting I honestly never expected to work, Cameron Diaz trades in her typical ditzy blond shtick and throws herself into the decidedly unglamorous role of Sara Fitzgerald, an attorney who gives up her practice when her young daughter Kate (Sofia Vassilieva from TV's Medium) is diagnosed with leukemia. Determined to do whatever it takes to keep her daughter alive, she and her husband Brian (Jason Patric) don't have many options for treatment available. Well, until the doctor gives them a bit of controversial, off-the-record advice that could potentially make a significant difference—have another baby that's genetically engineered to perfectly match all of Kate's needs, whether it's for blood, bone marrow or even a kidney.
After the procedure was successful and Anna (Abigail Breslin) was born, the younger sister has served as the spare parts factory her older sister has needed along the way. Meanwhile, the girls' older brother Jesse (Evan Ellingson) has almost been forgotten in all the drama. With Dad busy at work as a firefighter and all of Sara's attention focused on Kate, Jesse comes and goes as he pleases, hanging out in a seedy part of Hollywood to pass the time—all without his parents being the wiser. It's a complicated situation that provides for plenty of uneasy family dynamics that often culminate in Sara's voice getting even louder and more shrill as the moments tick by.
Have something to say about this article? Leave your comment via Facebook below!
advertise with us
Example: "Gen 1:1" "John 3" "Moses" "trust"
Advanced Search
Listen to Your Favorite Pastors