No Advantages for Friends with Benefits
Christian Hamaker, Crosswalk.com Contributing Writer
Friday, July 22, 2011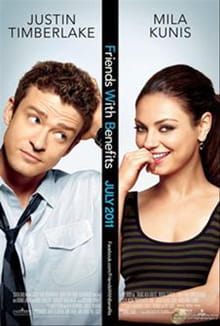 DVD Release Date: December 2, 2011
Theatrical Release Date: July 22, 2011
Rating: R (for sexual content and language)
Genre: Comedy
Run Time: 109 min.
Director: Will Gluck
Actors: Justin Timberlake, Mila Kunis, Richard Jenkins, Patricia Clarkson, Jenna Elfman, Woody Harrelson, Andy Samberg, Shaun White, Bryan Greenburg, Nolan Gould
EDITOR'S NOTE: This review contains discussion of mature subject matter. Parents please be advised before allowing children to read.
The lead characters in Friends with Benefits, the new sex-without-consequences comedy starring Mila Kunis (Black Swan) and Justin Timberlake (Bad Teacher), features lead characters who don't need to be in relationship. They need to be in counseling.
Dylan (Timberlake) is a website art director who has been recruited by headhunter Jamie (Kunis) to take a job with GQ magazine. The new gig necessitates a move from L.A. to New York City. Dylan's afraid he might make the move only to fail spectacularly (or "s-it the bed," a metaphor they state repeatedly, between discussions of their sex lives and checkered pasts), while she's confident he has what it takes to succeed in the new role. Plus, she gets a nice fat fee for recruiting him—and an even nicer bonus as long as he doesn't leave the position within a year.
So Jamie sells Dylan on New York by immersing him in the midst of a "flash mob"—something with which the Web-savvy designer is largely unfamiliar, even though flash mobs are frequently featured in online clips that go viral. The moment, meant to be magical, feels phony—one of several failed jokes and pop-culture references early in the film, when the story needs to build a head of steam. More polished performers—those who have established screen personas—could have elevated the dialogue, but Timberlake and Kunis, both of whom show great promise, simply aren't seasoned enough to compensate for the bumpy script. Their early conversations should come across as fun repartee, but instead feel stilted and bland. We know the two characters should be falling for each other, but the movie doesn't do a good job of carrying us along.
No sooner have Dylan and Jamie made fun of New York stereotypes as seen in the sitcom Seinfeld than they're proposing a feature-length reenactment of one of that sitcom's classic episodes: Why can't two friends (very new friends, in the case of Dylan and Jamie) have sex without having a relationship? Why can't they derive physical pleasure from one another but leave out all of the obligations and emotional baggage that come with physical intimacy in the context of a committed relationship?
Seinfeld sorted out this mess in just over 20 minutes. Friends with Benefits runs 109 minutes with characters that are much less familiar to us than were Jerry and Elaine. After the buildup to the couple's first sexual encounter—a very explicit scene dominated by an extended discussion of, and performance of, oral sex by each partner—the film has to figure out what to do with the remainder of its running time.
Have something to say about this article? Leave your comment via Facebook below!
advertise with us
Example: "Gen 1:1" "John 3" "Moses" "trust"
Advanced Search
Listen to Your Favorite Pastors