Not Much Story to Tell in Taking Woodstock
Jeffrey Huston, Crosswalk.com Contributing Writer
Friday, August 28, 2009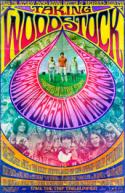 The merit of a movie like this isn't in how it might persuade us to the worldview of the people being portrayed or in making us believe in what they did, the choices they made or the things they believed in. Rather it is to help us understand them better, to have empathy for their motives even if we can't agree with their actions. It's to make them dimensional and real. In simple terms, it's to reveal the humanity beneath the stereotype. Outside of Elliot's parents, Taking Woodstock fails at that fundamental purpose.
The most glaring example of this is Elliot himself, largely due to an uncharismatic turn by relative newcomer Demetri Martin (a former contributor on The Daily Show and current host of Important Things with Demetri Martin). Surprisingly, he plays Elliot with lethargy so consistent it's almost masochistic—and for a man dubbed the Woodstock Messiah, that's a problem. Screenwriter James Schamus appears to have provided opportunities to flesh out a conflicted yet inspired young man, but Martin is rarely capable of being anything more than bored or burdened until he's kissed by a man or a pot-induced haze puts a lazy grin on his face.
As for the broader experience, that's a mixed bag. Ang Lee succeeds (eventually) in putting us right in the middle of it all: the sex (though mostly suggested rather than depicted), drinking, partying, drug-tripping, mass-nudity and mudslides, et al, but the one thing he avoids is—shockingly—the music. Not visualizing the stage is understandable logistically (and narratively not necessary), but to relegate the soundtrack to just another auditory element without ever connecting it to the experience is a real head-scratcher. So what we're left with is nothing more than an over-sized frat party gone insanely out of control.
The failure to broach (let alone achieve) revelatory insight is the fault of either the director or the subject. Given Ang Lee's impressive career, I'll assume the latter. His cinematic gifts effectively create the right tone, so it's never plodding or boring (although one can't help but wonder what Cameron Crowe could've done with the same material). Yet while it all looks and feels right, Taking Woodstock could be compared to a tasty blend of spices and seasoning that lack the meat they were brought together to enhance—a metaphor, some would argue, that could also be said of Woodstock itself.
CAUTIONS:
Drugs/Alcohol Content: Beer, cigarettes, and pot are consumed, and drug consumption is romanticized.
Language/Profanity: Full range of profanities used.
Sexual Content/Nudity: A few occasions of mass full-frontal public nudity as groups of people undress and dance around, as was common to the Woodstock experience. Sexual acts are referenced or suggested (as in behind trees and bushes) but not fully visualized. Two men kiss passionately in the context of a homosexual awakening; later, one is seen leaving the other's bed.
Violence/Other: Rowdy and raucous atmosphere, but no violence in the traditional sense.



Jeffrey Huston is a film director, writer and producer at Steelehouse Productions in Tulsa, Okla. He is also cohost of "Steelehouse Podcast," along with Steelehouse Executive Creative Mark Steele, where each week they discuss God in pop culture.

To listen to the weekly podcast, please visit www.steelehouse.com or click here. You can also subscribe to "Steelehouse Podcast" through iTunes.



Have something to say about this article? Leave your comment via Facebook below!
advertise with us
Example: "Gen 1:1" "John 3" "Moses" "trust"
Advanced Search
Listen to Your Favorite Pastors