Derivative Oblivion Moves Too Slowly
Christian Hamaker, Crosswalk.com Contributing Writer
Friday, April 19, 2013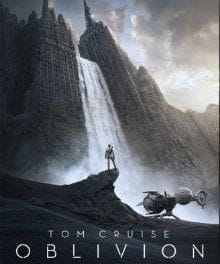 DVD Release Date: August 6, 2013
Theatrical Release Date: April 19, 2013
Rating: PG-13 for sci-fi action violence, brief strong language, and some sensuality/nudity
Genre: Science Fiction
Run Time: 126 min.
Director: Joseph Kosinski
Cast: Tom Cruise, Morgan Freeman, Olga Kurylenko, Andrea Riseborough, Nikolaj Coster-Waldau, Melissa Leo
Remember TRON: Legacy? A 2010 sequel that no one had been asking for to a 1982 sci-fi film, TRON: Legacy had a plodding story but slick visuals and an aggressive music soundtrack. Budgeted at $170 million, TRON: Legacy took in $172 million domestic, a break-even proposition at the box office. But it hauled in another $228 million from international audiences, for whom sound, style and movie stars can trump well-developed storylines more so than in the States.
Oblivion, the new film from TRON: Legacy director Joseph Kosinski, suffers from some of the same problems that plagued that sci-fi sequel. It has too much noise, an overbearing soundtrack and a derivative plot. But it also has a major international leading man in Tom Cruise (Jack Reacher) to shore up its financial prospects.
A bankable star brings all sorts of audience preconceptions to a film. The actor's challenge is to make us understand how other characters fit with - or depart from and expand - the star's screen persona. Although Cruise acquits himself fine in Oblivion, he doesn't get much help in establishing the person he plays. With no back story to draw upon—Oblivion isn't a sequel, and can't ride on the coattails of a previous chapter establishing the characters—the movie has trouble making us care.
The year is 2077. Earth has long since been attacked by Scavengers, or Scavs, alien beings who destroyed our moon, throwing Earth out of balance, causing widescale calamity. The humans did what they had to do: they fought back with nuclear weapons. Now with the planet in ruins, humans have started life anew on one of Saturn's moons.
Jack Harper (Cruise) spends his days above the Earth's surface, monitoring and repairing drones that scour the planet working to extract vital resources from Earth. He's partnered with Victoria (Andrea Riseborough, W.E.) under the guidance of Sally (Melissa Leo, The Fighter). Jack and Victoria are, in the words of Sally, an "effective team," but they're more than that. They're also lovers.
Although Jack's memory has been wiped, he's haunted by dreams in which he sees the face of a woman he feels he knows. He also has to resist his longing to spend more time on the surface of Earth, which, he says, is "still my home." During one patrol of Earth, Jack encounters Julia (Olga Kurylenko, To the Wonder), who resembles the woman in his dreams. With her help and the help of Beech (Morgan Freeman, Red), the leader of a band of humans that combat forces seeking their destruction, he slowly learns the truth about the Scavs and his role in the fate of Earth's future.
Have something to say about this article? Leave your comment via Facebook below!
advertise with us
Example: "Gen 1:1" "John 3" "Moses" "trust"
Advanced Search
Listen to Your Favorite Pastors