Observe and Report Disturbs and Offends
Christian Hamaker, Crosswalk.com Contributing Writer
Friday, April 10, 2009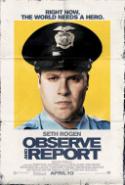 DVD Release Date: September 22, 2009
Theatrical Release Date: April 10, 2009
Rating: R (for pervasive language, graphic nudity, drug use, sexual content and violence)
Genre: Comedy
Run Time: 86 min.
Director: Jody Hill
Actors: Seth Rogen, Anna Faris, Ray Liotta, Michael Pena, Celia Weston, Collette Wolfe, Randy Gambill

The R-rated comedy has roared back to life in recent years. Exemplified by the work of Judd Apatow (The 40-Year-Old Virgin, Knocked Up), these films offer up moments of gross-out humor and sometimes shocking sexual escapades, but often end with some form of character growth and long-term romantic commitment.
Observe and Report, written and directed by Jody Hill (The Foot Fist Way) and starring Seth Rogen, who made his name in the aforementioned Apatow films and also co-wrote the teen sex comedy Superbad—shares the boundary-breaking mentality of those earlier comedies: Casual drug use and casual sex are par for the course, but its moments of outrageous humor ultimately take a back seat to the story's darker underbelly.
What sets Observe and Report apart, and not for the better, is the film's treatment of its main character, Ronnie Barnhardt (Rogen). A pathetic mall security officer, Ronnie patrols his territory with zeal, despite lacking the clear authority to detain lawbreakers.
That's a good thing, because Ronnie is not altogether normal. His mother (Celia Weston) spends her time at home drinking and sharing stories with her son about the first time she slept with Ronnie's father, or how his father walked out on them because caring for Ronnie was too much responsibility.
Ronnie clearly loves his mother and takes care of her—he gently covers her with a blanket after she passes out on the living-room floor—but that impulse manifests itself in inappropriate ways with others. He lusts after mall employee Brandi (Anna Faris), stalking her in the mall parking lot and pressing her for a date. When an outside detective (Ray Liotta) is brought in to investigate a flasher's increasingly brazen behavior, Ronnie tries to finagle a way into full-time law enforcement but succeeds only in harming the investigation.
By the time we hear Ronnie explain that he has "a little bipolar" disorder, we've seen several other manifestations of disturbing behavior, often in the bizarre company of his fellow security guards. Early in the film, they visit a shooting range and express their gun lust by polishing their weapons. Most strange of all is the soft-spoken Dennis (Michael Pena), whose outward behavior conceals a risk-taking side.
The film's one genuinely sweet character is Nell (Collette Wolfe), an injured food-court worker who delights in Ronnie's daily visits. He requests free cups of coffee, which Nell gladly provides, listening to Ronnie discuss his hopes, dreams and obsessions. Nell has her own problems to unload. Hobbled by an injury, she suffers cruel, demeaning comments from her boss. The frustration over her plight—she wants to quit but needs money to cover medical expenses—gets to her, but unlike the other people Ronnie regularly encounters at the mall, Nell doesn't look down on Ronnie or treat him like a joke or nuisance.
Nell also wears a promise ring and speaks of being a "born-again virgin," but such nods to morality are played for jokes in the movie. Her behavior toward Ronnie is what sets her apart from the other characters.
Observe and Report grows increasingly dark as Ronnie's unstable nature begins to manifest in unpredictable ways. The film ends with a shock, but then pulls back from that shocking moment, as if the film doesn't quite have the courage of its convictions. It shows us a troubled soul, but in the end, wants us to love him and laugh with him, believing in him as Nell does.
Have something to say about this article? Leave your comment via Facebook below!
advertise with us
Example: "Gen 1:1" "John 3" "Moses" "trust"
Advanced Search
Listen to Your Favorite Pastors