Obvious Child Collapses under Pro-Choice Message
Jeffrey Huston, Crosswalk.com Contributing Writer
Friday, June 27, 2014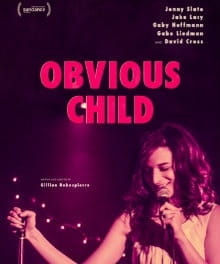 Editor's Note: The following review deals with subjects and beliefs that run counter to a Christian worldview. Reader discretion is advised.
DVD Release Date: October 7, 2014
Theatrical Release Date: June 6, 2014 limited; wider June 27
Rating: R (forstrong language and sexual content & themes)
Genre: Comedy-Drama
Run Time: 84 min
Directors: Gillian Robespierre
Cast: Jenny Slate, Jake Lacy, Gaby Hoffmann, David Cross, Gabe Liedman, Richard Kind, Polly Draper
Obvious Child, the first feature from writer/director Gillian Robespierre, is the kind of auspicious debut you dream of seeing, as is the breakout lead performance from heretofore comic supporting actress Jenny Slate (TV's Parks & Recreation and Saturday Night Live). It's one of the best films of the year. Unfortunately, it also has one of the worst messages.
Dubbed "the abortion comedy," Obvious Child is about a young New York stand-up comic named Donna Stern (Slate) who, after a drunken one-night-stand, becomes pregnant and decides to abort the baby. The dramatic conflict (of this taboo-tackling romantic comedy) never involves if she'll have the abortion or not; the decision is fairly immediate, and no one ever contests either the logic or ethics of her choice. It's driven more by the weight of it all (buoyed by Robespierre's and Slate's sharp comedic voices), and if Donna will summon the courage to tell the father Max (Jake Lacy, TV's The Office) with whom she's begun to develop an actual relationship. The child's fate is never in question; the stakes are simply of the "will they or won't they" variety common to the genre, albeit with much more on the line than heartbreak.
For as sympathetic as the film is toward Donna, her decision, and the circumstances surrounding it (which aren't as remotely complicated as most unwanted crisis pregnancies), Obvious Child is not activist in nature. It doesn't aggressively champion the Pro-Choice position, nor does it aggressively belittle the Pro-Life philosophy. Indeed, Pro-Life isn't even a thought in this world; it's simply a non-factor. Donna does briefly wonder if she'll end up regretting her decision, but that concern is quickly assuaged by her best friend Nellie (Gaby Hoffmann, Veronica Mars) who, having had her own abortion as a teenager, assures Donna she'll have no lingering remorse.
That comfort is indicative of Robespierre's one major storytelling flaw: the idealistic supportive cocoon she creates for Donna. Not only are her closest friends extremely gracious and understanding but so is her mother, and all are quick to calm emotional and financial anxieties. To top it off, Donna seems to have lucked out with the father as well, a man who basically ends up being The Best Guy Ever. It all falls short of being an out-and-out Planned Parenthood fantasy (it's too resolved in capturing the nuances of life to be that), but the safety net afforded Donna sure pulls a lot of punches. It's a best-case scenario that borders on propaganda, and the cavalier humor used to diffuse tension does eventually go too far in making light of the situation. Nevertheless, this would-be tale of Feminist Self-Empowerment has the undeniable irony of a heroine that is (as with most women caught in this situation) resigned to just one decision because she feels so completely powerless.
Have something to say about this article? Leave your comment via Facebook below!
advertise with us
Example: "Gen 1:1" "John 3" "Moses" "trust"
Advanced Search
Listen to Your Favorite Pastors