Pacific Rim Looks Solid but Rings Hollow
Christa Banister, Crosswalk.com Contributing Writer
Thursday, July 11, 2013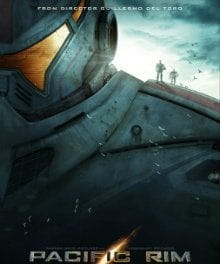 DVD Release Date: October 15, 2013
Theatrical Release Date: July 12, 2013
Rating: PG-13 (for sequences of intense sci-fi action and violence throughout and brief language)
Genre: Science Fiction/Action
Run Time: 131 min.
Director: Guillermo del Toro
Cast: Charlie Hunnam, Idris Elba, Rinko Kikuchi, Charlie Day, Burn Gorman, Diego Klattenhoff, Max Martini, Ron Perlman
Planet Earth took quite a shellacking on the big screen this summer. From the usual superhero-related shenanigans (Iron Man 3, Man of Steel) to yet another rendition of someone threatening to blow up the White House (White House Down) to a full-scale zombie assault (World War Z), what doomsday scenario could possibly be left, you ask? Well, giant manned robots battling skyscraper-sized sea creatures, naturally.
Normally, a project of this magnitude (and trust me, there's nothing small or subtle about Pacific Rim) would be handled by the likes of Roland Emmerich or Michael Bay. But in what's a rather intriguing prospect, it's actually Guillermo del Toro (Pan's Labyrinth) at the helm of Pacific Rim as both director and co-writer.
Considering del Toro's decidedly offbeat sensibilities, especially in regard to a film's aesthetic quality, Pacific Rim had the promise of being that rare big-budget film that fires on all cylinders. Trouble is, while the otherworldly creatures known as kaijus are truly a terrifying sight to behold, there's not much about Pacific Rim that defies the usual action movie stereotypes. While it might look infinitely better than Transformers in comparison, it's still dumb, loud and thoroughly predictable with very little human connection.
Taking place in the not-so-distant future, Pacific Rim introduces the audience to another kind of alien—one that doesn't fall from the sky but lurks beneath the mighty Pacific (hence the film's title). Like most extraterrestrials, these larger-than-life beings basically have a no-tolerance policy concerning humans, and whenever they surface, they wipe out coastal cities in a matter of seconds.
With the fate of mankind hanging in the balance due to an increasing number of kaiju attacks, all the remaining countries eventually decide to pool their collective resources to fight back. Fashioning what they call a jaeger (German for "hunters"), they've decided the best way to win the war is with robots so gigantic they must be powered by not one, but two human "pilots."
CrosswalkMovies.com: Pacific Rim Review from crosswalkmovies on GodTube.
In one of the script's more inventive ideas, these robots don't run on standard-issue technology. For these machines to work properly, the operators themselves must form a neurological bridge nicknamed "the drift." And since this mind-melding of sorts often involves revisiting past memories, it's easy for someone to get caught up in a reality that's anything but. To alleviate this condition, it helps if there's already a strong bond between the duo steering the proverbial ship.
Have something to say about this article? Leave your comment via Facebook below!
advertise with us
Example: "Gen 1:1" "John 3" "Moses" "trust"
Advanced Search
Listen to Your Favorite Pastors