Sexual Content, Thin Story Mar Otherwise Enjoyable Peeples
Susan Ellingburg, Crosswalk.com Contributing Writer
Friday, May 10, 2013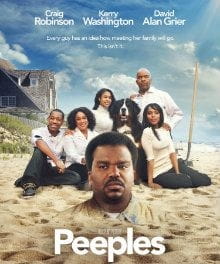 DVD Release Date: September 10, 2013
Theatrical Release Date: May 10, 2013
Rating: Rated PG-13 for sexual content, drug material and language
Genre: Comedy
Run Time: 98 minutes
Director: Tina Gordon Chism
Actors: Craig Robinson, Kerry Washington, David Alan Grier, S. Epatha Merkerson
That moment when you introduce your boyfriend to your parents and it all goes horribly wrong...
Wade (Craig Robinson) is on the verge of popping the question to his beloved Grace (Kerry Washington) but wedding bells will have to wait. It's "Moby Dick Day" in Sag Harbor and Grace has an unbreakable appointment to enjoy the festivities with her family... her wealthy, accomplished, perfect family Wade has dubbed "the black Kennedys." Wade has never met the Peeples family and he is NOT invited to the house party. But there "ain't no mountain high enough" to keep this underemployed songwriter from his true love's side. Wade decides to crash the family party and ask for Grace's hand in the presence of her family. In retrospect, that may not have been the best idea but it does make for some fairly amusing moments (if you think this sounds suspiciously like a rehash of Meet the Parents, give yourself a point).
It helps that the acting is excellent and no wonder: just look at the lineup. Robinson comes out of The Office and carries the film with his innocent, ungainly charm. Washington's Grace is a nice contrast to her always-in-control character on Scandal. Her expressions are in constant motion, reflecting the inner imbalance of a woman trying to walk the emotional tightrope between pleasing her father and the man she loves. Grace's father (David Alan Grier) is perfectly cast as a tightly coiled judge who keeps his family close and his secrets closer. In contrast, his wife Daphne (S. Epatha Merkerson), a former disco star, grows her own form of relaxation (and mixes it into her drinks).
If an abundance of sexual innuendo, sexual situations, and broad slapstick comedy are your idea of a good time, Peeples is for you. And when I say "sexual situations" I mean everything from traditional matchups to role-playing with a hint of sado-masochism to lesbian lovers involved in a possible three-way encounter with an all-too-willing male. And yet, this film is rated PG-13. One can only assume this is because most specifics are left to the imagination rather than actually shown on camera.
Thankfully, the story does have a bit more to it than running sex gags. The Peeples family takes perfectionism to new heights; not only do they have to impress the outside world, they have to impress each other. "You don't have to be perfect for family," Wade protests. "Yes, you do!" the clan replies in Stepford-like unison. Barred from showing any weakness, the entire repressed family keeps secrets from each other with sometimes sad, sometimes funny results. Of course, in film as in life, your sins will find you out, and before it's over the Peeples may find that the truth will set them free.
Director Tina Gordon Chism, who also wrote the screenplay, keeps things moving almost to a fault. As the action wears on the plot disintegrates into a series of visual jokes only loosely tied together by a thin story. Wade's attempts to connect with his would-be father-in-law deteriorate into a series of silly scenes that telegraph their obvious endings. Grace's feeble attempts to stand up for herself against her overbearing father are interrupted by lengthy discussions about her figure-enhancing plastic surgery. Minor characters, like Grace and Wade's siblings, are types more than real people, and not particularly pleasant types at that. Still, it's not mean-spirited as comedies sometimes are, nor is it as campy as many of producer Tyler Perry's films. The pace is good, the acting is superior, the setting is beautiful, and the basic story is amusing. It's significantly better than The Big Wedding (released just a few weeks ago and already deservedly forgotten). It even ends with a fun musical number that will send viewers dancing.
Have something to say about this article? Leave your comment via Facebook below!
advertise with us
Example: "Gen 1:1" "John 3" "Moses" "trust"
Advanced Search
Listen to Your Favorite Pastors