Perils of Adolescence Brought Memorably to Life in Let Me In
Christian Hamaker, Crosswalk.com Contributing Writer
Monday, October 04, 2010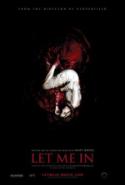 DVD Release Date: February 1, 2011
Theatrical Release Date: October 1, 2010
Rating: R (for strong bloody horror violence, language and a brief sexual situation)
Genre: Horror
Run Time: 115 min.
Director: Matt Reeves
Actors: Kodi Smit-McPhee, Chloe Moretz, Richard Jenkins, Elias Koteas, Carla Buono, Dylan Minnette, Jimmy Pinchak, Nicolai Dorian
Let Me In is being sold as a "vampire movie" with shock scares and standard horror-film frights. It is anything but that.

Director Matt Reeves (Cloverfield) has taken the original Swedish film, Let the Right One In, moved the setting to 1983 New Mexico, and has crafted a beautifully realized film about the uncertainties and loneliness of adolescence. It also explicitly raises the idea that evil is quite real—although not always in the places we might think. Its ambivalence on the acceptance of evil is uncomfortable, even chilling, but that makes the film all the more powerful. It's a warning about how spiritually vulnerable we are, and how easily we can go astray when searching for solutions to our problems.
Owen (Kodi Smit-McPhee) is being raised by a religious mother (Carla Buono) who prays with Owen that he will be protected from evil. There's no male influence in the home. The closest thing we see to a male influence is President Ronald Reagan on the TV, speaking about evil and the teachings of Jesus Christ.
Who is evil in Owen's world? We know from the film's opening sequence that Owen's new neighbors might have something to do with an investigation by a police officer (Elias Koteas) who suspects a Satanic cult is on the loose.
The neighbors are, at the least, odd. The 12-year-old Abby (Chloe Moretz) walks barefoot in the snow and tells Owen they can never be friends. He hears her older male guardian (Richard Jenkins) arguing with her at night. Something isn't right, but Owen needs a friend. Unlike the neighbors Owen watches through his window, Abby is real, approachable and willing to interact with Owen.
But Abby is a vampire. Her need for human blood has her attacking random men and women, leaving her older guardian to clean up her messy kills—and to do the killing himself whenever Abby tells him to do so. Abby also has her own set of rules for Owen: She can't be his friend and she can't enter his home without his inviting her inside. To violate these rules is to bring emotional and physical pain upon Abby, and Owen can't afford to hurt her. He needs her companionship and advice in dealing with three school bullies (Dylan Minnette, Jimmy Pinchak, Nicolai Dorian).
It takes a while to realize that the evil Owen is facing might not be just the vampire next door, but also the all-too-human cruelty visited upon him by the thugs at his school. Although his mother's religious life isn't explored in depth, her prayers for his protection from evil can be interpreted as being answered, albeit through a very unexpected ally. And yet, Abby has her own agenda, one that will lead to Owen's destruction if he chooses to "let her in." Her advice to Owen to retaliate against the bullies also contradicts Scripture's teachings, and has spiritual consequences. Peter warns us, "Your enemy the devil prowls around like a roaring lion looking for someone to devour. Resist him, standing firm in the faith, because you know that your brothers throughout the world are undergoing the same kind of sufferings" 1 Peter 5:8-9). But rather than endure the suffering, Owen strikes backs—with grim consequences for everyone involved.
Have something to say about this article? Leave your comment via Facebook below!
advertise with us
Example: "Gen 1:1" "John 3" "Moses" "trust"
Advanced Search
Listen to Your Favorite Pastors