Philomena a "Good Cry Movie" about a Mom's Regret
Jeffrey Huston, Crosswalk.com Contributing Writer
Friday, December 06, 2013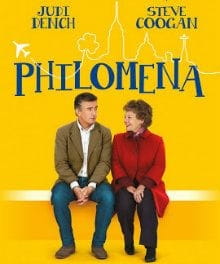 DVD Release Date: April 15, 2014
Theatrical Release Date: November 22, 2013 limited; expands throughout November and December.
Rating: PG-13 (for some strong language, thematic elements, and sexual references)
Genre: Drama
Run Time: 98 min
Directors: Stephen Frears
Cast: Judi Dench, Steve Coogan, Sophie Kennedy Clark, Michelle Fairley, Anna Maxwell Martin
Prepare to be overwhelmed – especially if you're a mother.
As a man, I've had difficulty in times past understanding the concept of "having a good cry." What's good about feeling that sad? And why would people say they occasionally need one, even to the point of actively seeking it out? Well with age and experience, I've come to understand. Yes, a good cry can involve sadness, but it's much more rich than that.
A good cry helps us to process our wounds, activate our empathy, and serve as a cathartic cleanse. Sappy movies elicit cheap cries, not good ones. A good-cry movie is honest, not always pleasant, but deeply necessary – and healing. Philomena is "a good cry" movie, wrought by a performance from Judi Dench that could win her a second Oscar. And it's based on a true story. Like I said – prepare yourself.
Philomena Lee (Dench, The Best Exotic Marigold Hotel) is an elderly Irish woman who, in the early 2000s, went on a search to find her son Anthony whom she had borne out of wedlock. At the age of two, he had been forcibly taken from her and given up for adoption. She has not seen or heard from him in the fifty years since.
Crosswalk.com: Philomena Video Movie Review from crosswalkmovies on GodTube.
Her unlikely ally is Martin Sixsmith (Steve Coogan, The Other Guys), a former BBC reporter turned government official who was caught up in the wake of a scandal not of his making. Unjustly disgraced, Sixsmith returns to reportage and book writing when, at a dinner party, Philomena Lee lands on his radar.
Sixsmith and Philomena are polar opposites, especially on issues of faith. He's agnostic (leaning toward atheist); she's a devout Catholic. Furthermore, Sixsmith's innate contempt for "human interest stories" causes him to brush off Philomena's plight before his desperate need for work – and keen interest from an editor – brings him back to it.
Complicating matters is the role a convent played in the loss of little Anthony, a fact that Sixsmith and Philomena are of two different minds on how to deal with – in part because Philomena feels personally responsible for legally consenting to the action, albeit under extreme duress by strict disciplinarian nuns. Sixsmith sees injustice; Philomena only feels guilt, and their opposing views on faith and the Church further color their differences on how to move forward.
Their search takes an unexpected turn early on, upending an outcome that the misanthropic Sixsmith believed to be a foregone conclusion (he'd already written out the whole sappy story in his mind). From there, they don't have a clue where this journey will take them, nor do we. Along the way, Martin and Philomena often find themselves discussing and debating God. The film doesn't answer the God questions it raises (which also broach one character's sexual orientation) but rather shows how two different people imperfectly reconcile those tensions.
Have something to say about this article? Leave your comment via Facebook below!
advertise with us
Example: "Gen 1:1" "John 3" "Moses" "trust"
Advanced Search
Listen to Your Favorite Pastors