Poverty, Abuse and Hope Unflinchingly Portrayed in Precious
Christa Banister, Crosswalk.com Contributing Writer
Friday, November 20, 2009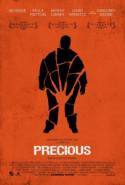 DVD Release Date: March 9, 2010
Theatrical Release Date: November 6, 2009 (limited)
Rating: R (for child abuse including sexual assault and pervasive language)
Genre: Drama, Adaptation
Run Time: 110 min.
Director: Lee Daniels
Actors: Gabourey "Gabby" Sidibe, Mo'Nique, Paula Patton, Mariah Carey, Sherri Shephed, Lenny Kravitz, Stephanie Andujar, Chyna Layne
Be forewarned: Precious is not a movie for the faint of heart or stomach. Not only is the portrayal of abuse (sexual, physical and otherwise) both grotesque and gritty in a decidedly in-your-face way, but never have I seen pigs' feet used to such gruesome effect.

Believe me, there are countless visuals you'll never forget when watching the story that was inspired by Sapphire's novel, Push.

That being said, there's definitely a reason this film is backed by the high-profile likes of Oprah and Tyler Perry and being talked about in such a praiseworthy way, and it's not solely because of the shock factor. Not only are there several Oscar-worthy performances here from newcomer Gabourey Sidibe as the movie's namesake and Mo'Nique, who is, hands down, one of the scariest movie villains since Heath Ledger's portrayal of The Joker in The Dark Knight, but director Lee Daniels gets the story just right by not shying away from the ugly truth of poverty, illiteracy and abuse.

Set in Harlem in 1987, the story revolves around an unlikely protagonist: a 16-year-old African American girl who's already a mother of two sons, thanks to her own HIV-infected father. If that wasn't already a grim-enough reality, Precious also can't read or write, is morbidly obese (and constantly teased about it) and faces daily physical and verbal abuse from her own mother (Mo'Nique) who incidentally, is gaming the welfare system and forces her daughter to wait on her hand and foot.

A sample conversation between mother and daughter goes something like this: "You're a dummy. Nobody wants you…you better get yourself down to the welfare!"

And trust me, that's one of the tamer exchanges, namely one that I could actually print here.

Really, the only hope Precious has for a better life (in the beginning, anyway) are the escapist fantasies she creates in her own head. In her imaginary dream world, she's everything that she's not in real life: rich, famous and fabulous in one scenario, a beautiful, skinny white girl looking back at her in the mirror later on, or the doting wife living in the 'burbs with the handsome teacher she's crushin' on.

Sadly, those few fake moments of escape aren't enough to sustain her emotionally. Although I must say, Precious never feels too sorry for herself and surprisingly has a sense of humor about what's happened to her, something we get to hear in several amusing voiceovers.

While Precious doesn't exactly seem like it would have "Feel Good Movie of the Year" written all over it like, say, The Blind Side, it does take a turn for the better once she's expelled from her junior high school for being pregnant. Really, getting kicked out was the best thing to happen to Precious in a while, now that her new teacher, Ms. Rain (Paula Patton) is watching out for her.

Determined to let Precious know that she's valuable and worthy of a better life, the experiences at her new, "alternative" school are a joy to watch. Not only do we see Precious truly begin to thrive, but we're also introduced to a motley crew of classmates who've faced their share of hardships, too. Somehow in the mix of classes and impromptu therapy sessions, the vagabond group almost becomes a makeshift family when school is in session. However, when it's not, the journey is still painful and heartbreaking.

And thankfully, the screenplay doesn't turn too soft as the more hopeful end nears. Never content to resort to pat answers or sappy Lifetime made-for-TV movie melodrama, Precious is a memorable story of hope that's really difficult to watch. In fact, you're on such an emotional rollercoaster that you're almost too beat up to shed a tear.

But if anything good can come from such a horrible situation, it's an all-too-important reminder that we're all precious in God's sight, even if we're broken, abused and unloved like the leading lady in this movie.

CAUTIONS:
Have something to say about this article? Leave your comment via Facebook below!
advertise with us
Example: "Gen 1:1" "John 3" "Moses" "trust"
Advanced Search
Listen to Your Favorite Pastors