Prisoners More Revenge-Minded Than Faith-Filled
Christian Hamaker, Crosswalk.com Contributing Writer
Friday, September 20, 2013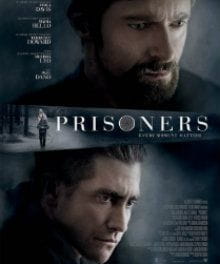 DVD Release Date: December 17, 2013
Theatrical Release Date: September 20, 2013
Rating: R for disturbing violent content including torture, and language throughout
Genre: Drama
Run Time: 153 min.
Director: Denis Villeneuve
Actors: Hugh Jackman, Jake Gyllenhaal, Terrence Howard, Paul Dano, Melissa Leo, Maria Bello, Viola Davis, Dylan Minnette
If you've had quite enough of I-want-my-family-back! revenge dramas, or if you're done with crime procedurals that are all about "whodunit" yet without any moral heft to their stories, Prisoners may be for you. The new film from director Denis Villeneuve (helmer of Best Foreign Language Oscar contender Incendies in 2011) is an effective, moody thriller grounded in important religious ideas. Those themes aren't as well realized as they could have been, but that disappointment by no means undoes the skillful work on display by Villeneuve and a strong cast.
Keller Dover (Hugh Jackman, Wolverine), his wife Grace (Maria Bello, Grown Ups 2), and their son and daughter pay a Thanksgiving visit to friends Franklin and Nanci Birch (Terrence Howard, The Butler and Viola Davis, Beautiful Creatures) and their children. Well into the day, Keller discovers that his daughter has disappeared along with one of the Birch girls. Older siblings confirm that the kids had been playing around an RV in the neighborhood. Could the RV driver have abducted the children?
The two family men will go to dark places to find out. Keller pushes Detective Loki (Jake Gyllenhaal, Source Code) to keep questioning the driver of the RV (Paul Dano, Looper), a mentally challenged man named Alex whom Keller insists is guilty. When Loki refuses to press Alex, Keller enlists Franklin to help extract a confession from the suspect. What follows is an extremely troubling depiction of interrogation, torture and torment that Villeneuve returns to repeatedly. In between, Prisoners follows Loki's investigation, his pursuit of other suspects, and the debilitating effect the children's disappearance has on the mothers.
What sets Prisoners apart from most other revenge dramas is its explicit religious imagery and language. Crosses are seen from the film's opening moments—dangling from rearview mirrors, tattooed onto hands, hanging on necklaces. We hear the Lord's Prayer and we hear a radio preacher quote from the book of Job when Keller turns on his car radio. The quoted words inform the heartbreaking story that unfolds in Prisoners: "Man is born to trouble as surely as sparks fly upward" (Job 5:7).
Prisoners, scripted by Aaron Guzikowski (Contraband), is a story of human pain and loss, and of how we respond to the temptation to carry out our own ideas of justice. Keller does so by sinking into anger and his own sense of certainty. He's clearly obsessed, which makes his character a less interesting focal point than that of Franklin, whose response to Keller's actions and to the grievous disappearance of his daughter is initially much more patient and charitable toward Alex, even though he finds himself pulled into Keller's desperate plan.
Have something to say about this article? Leave your comment via Facebook below!
advertise with us
Example: "Gen 1:1" "John 3" "Moses" "trust"
Advanced Search
Listen to Your Favorite Pastors