Pro-Family Messages Are Found in Are We Done Yet?
Annabelle Robertson, Entertainment Critic
Friday, August 10, 2007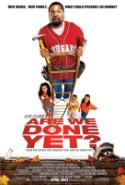 DVD Release Date: August 7, 2007
Theatrical Release Date: April 4, 2007
Rating: PG (for some innuendos and brief language)
Genre: Family Comedy
Run Time: 95 min.
Director: Steve Carr
Actors: Ice Cube, Nia Long, John C. McGinley, Aleisha Allen, Philip Bolden
Sports memorabilia shop owner Nick Persons (Ice Cube) is back. After his disastrous road trip with little Kevin (Philip Bolden) and Lindsey (Aleisha Allen) in the 2005 film, Are We There Yet? Nick sold the store and married spunky single mom Suzanne (Nia Long). Now, he's settling into family life. Well, sort of, anyway. Because Mom, Dad, kids and dog are all crammed into Nick's apartment, where the new stepfather is struggling to get his work done—a sports magazine that he's publishing for the first time.
When Suzanne announces she is pregnant—with twins, no less—Nick decides it's time to move to the 'burbs. Small-town real estate agent Chuck Mitchell Jr. (John C. McGinley) introduces them to the "perfect house" in upstate Oregon, assuring the Persons that it's not only beautiful (and it is), but solid. Nick makes a hasty purchase and moves everybody out of the city.
Lindsey is furious, but never fear, because contrary to the realtor's assurances, the house has problems—lots of them. And Nick, it turns out, didn't get an inspection (is that even legal?). So when a young dry rot specialist appears on the scene, Lindsey's in teen heaven—even as her new stepfather is freaking about all the undisclosed damage. Soon, everyone from electricians and plumbers to foundation experts and roofers are tearing the house to bits.
Based on the 1948 comedy starring Cary Grant, Mr. Blandings Builds His Dream House, which was reprised in 1986 with The Money Pit, starring Tom Hanks, Are We Done Yet? has room for creativity, but doesn't ante up. For a children's film, the plot works. It picks up where the previous film left off (albeit with a few inexplicable discrepancies), reminding us, for example, how much animals hate Nick, with a few funny incidents.
For the most part, however, director Steve Carr has coaxed even less talent from his stars than Briant Levant did in Are We There Yet? Of course, it's highly commendable to see Ice Cube in another family film. But for some reason, this talented actor doesn't seem to be able to do anything but scowl. And what happened to Suzanne? Before, she was a go-get-'em career woman. But why does she have to be so ditzy, just because she's (apparently) quit her powerhouse job? Why didn't Nick move into her big house, instead of them all moving into his little apartment? And why-oh-why doesn't this previously sassy woman care that her husband refuses to come to her ultrasound appointment then has to be tracked down in a bar, where he downs multiple shots after hearing the news that he's having twins?
Thankfully, child actors Bolden and Allen have learned a few things during the past two years, so their performances are improved. Bolden actually holds his own, but Allen's perpetually petulant stare, which alternates with a goofy grin, is getting old. And what's with the Disney-like performance at the pool party? Do we really need to keep telling little girls that singing in front of an audience is where it's at, folks?
Have something to say about this article? Leave your comment via Facebook below!
advertise with us
Example: "Gen 1:1" "John 3" "Moses" "trust"
Advanced Search
Listen to Your Favorite Pastors