Quirky Fantastic Mr. Fox Lives Up to Its Title
Jeffrey Huston, Crosswalk.com Contributing Writer
Wednesday, November 25, 2009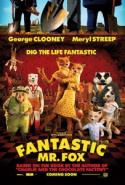 DVD Release Date: March 23, 2010
Theatrical Release Date: November 25, 2009 (wide)
Rating: PG (for action, smoking and slang humor)
Genre: Comedy, Animation, Adaptation
Run Time: 87 min.
Director: Wes Anderson
Voices of: George Clooney, Meryl Streep, Jason Schwartzman, Bill Murray, Eric Anderson, Michael Gambon, Willem Dafoe, Owen Wilson

It's nearly impossible to overstate how wonderful this movie is. Living up to its title as well as any film of recent memory, Fantastic Mr. Fox is a whirlwind of madcap humor, surprising emotion and true artistry.
At a time when animated fare is defined by three-dimensional meatballs, along comes director Wes Anderson (The Royal Tenenbaums, Bottle Rocket) to elevate the genre in sophistication while not sacrificing accessibility. Indeed, the idiosyncratic nature of this stop-motion masterpiece is just one of the considerable charms in a production filled with them.
Based on the book by beloved children's author Roald Dahl (Charlie and the Chocolate Factory, James and the Giant Peach), Anderson's adaptation (he also co-wrote) largely embraces the source's wry British esprit while also boasting an instinct of when to slow down, even soften, and discover emotional depths.
Mr. Fox is a former chicken thief (that's what foxes do) turned newspaper columnist, having settled down after his cohort Mrs. Fox learned she was pregnant. The Mrs. has since enjoyed the years of domesticity, but angst has built up for Mr. Fox who has suppressed his animal instincts for the sake of family. Eventually he can suppress no longer and, with the help of an old friend, secretly goes on nighttime thieving runs behind his wife's back (and breaking the promise he had made to her).
Complicating the dynamic is Fox's son Ash, an awkward young teenager desperate to fit in. He's short, clumsy, unpopular, surly rather than amiable, and in no way extraordinary—yet he wants to be everything he's not (or as he succinctly puts it: "I want to be an athlete."). This also makes him the opposite of his father, whose talent and magnetism make him, well, fantastic. So when dad recruits Ash's gifted older cousin Kristofferson to aid in the nocturnal poultry skullduggery, it strains their distant relationship even further.
These are the emotional stakes: a son trying to find himself by not being himself, a wife who is being deceived, and a father/husband whose easy-going charm and charisma masks his own struggles when he needs to be honest about them. That creates a distance with his wife while, in the case of his son, Ash goes to such risky lengths to impress his dad that his subsequent failure endangers everyone around them. All of this is a result of Fox's arrogance, and ultimately he must own up to his wife and son for trying to be "fantastic" in all the wrong ways.
So fundamentally, it's a film about personal identity. Who am I? What makes me tick? What am I good at (or not), what do I dream to be, and can I be content if those two things never meet? Then by extension it's also about self-discovery, embracing who you are, and that the suppression of your nature isn't the answer. Rather, one must responsibly find the good version of that nature (which involves integrity) rather than the bad (which involves the easiest, most tempting options).
These themes of personal and familial discord are tenderly explored and (despite all the time I've given them) work appropriately as undercurrents, never bogging down the main story's zippy enthusiasm. The big temptation for Fox is three mean farmers—Boggis, Bunce and Bean—and their organic loot. As Fox's ambition grows so does his team until it takes on the form of a rural Ocean's Eleven. This is a heist movie, essentially, but with an ironic wit, goofy spirit and (when you least expect it) a warm heart.
Have something to say about this article? Leave your comment via Facebook below!
advertise with us
Example: "Gen 1:1" "John 3" "Moses" "trust"
Advanced Search
Listen to Your Favorite Pastors