Quirky Fantastic Mr. Fox Lives Up to Its Title
Jeffrey Huston, Crosswalk.com Contributing Writer
Wednesday, November 25, 2009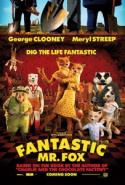 Visual and narrative invention abounds in equal measure, each limitless in its respective ability to craft images or dialogue that not only entertain but amaze. Not only is Wes Anderson's use of language clever, but his droll sensibility knows how to spice things up with bursts of absurdity (like when otherwise calm animals rabidly devour food, or shout, scream and claw at each other only to then instantly calm down).
Also true to his visual style, this is the work of a true auteur—its autumnal-hewn tapestry meticulously crafted in every respect (specifically designed costumes, impressive landscapes, exacting expressions, and physically pure as it never employs computer animation—not even for smoke), yet it remains loose and carefree like its title character, basking in the fun of every ingenious idea along the way.
The vocal performances are also inspired, as is even the capture of them. Ditching the confines of a studio, Anderson brought his actors to a Connecticut farm where they recorded together in a home, barn, other buildings, and around the property. That crude authenticity can be heard and it enhances the film's rough-around-the-edges texture, serving as one of the director's most brilliant strokes.
George Clooney is a perfect fit as Mr. Fox (seemingly modeled as a Cary Grant archetype), knowing exactly how to play erudite slapstick and clueless confidence. He provides the perfect anchor for a stellar all-star ensemble that includes Meryl Streep, Bill Murray and Jason Schwartzman (Anderson's Rushmore) in a real standout performance as Ash.
This is a Wes Anderson film through-and-through. As such, it's not exactly mainstream and will be an acquired taste for some, but if fiercely conceived sight gags and hilarious vernacular twists appeal to you (like, for example, using the literal word "cuss" or variations thereof—"cussed", "cussing", etc.—in lieu of actual profanity), you'd be hard-pressed to find a more artful execution of quirk and eccentricity. It's odd. It's weird. But it's also beautiful. While it may leave some kids baffled, others will love it—and it's worth the gamble because even if they don't like it, you probably will.
Sentimental without being schmaltzy, this is a breathtaking achievement of singular vision and vigorous joy. I won't be so bold as to proclaim it an instant classic (tempted though I might be), but one thing's for sure: Fantastic Mr. Fox is really something special.
CAUTIONS:
Drugs/Alcohol Content: Smoking (by bad guys), drinking references (but not drunkenness), champagne at dinner, visual and verbal references to alcoholic cider.
Language/Profanity: None. Instead, whenever a swear word would be used, the term "cuss" (or a variation thereof) is employed. "What the cuss?!", "Are you cussin' with me?", and so on. It's used with memorable wit, to the point where it could also become catchy for kids who latch onto movie catch-phrases (or adults, too, for that matter).
Sexual Content/Nudity: Mr. and Mrs. Fox kiss. References to pregnancy.
Violence/Other: Animals occasionally lash out violently, but intended for comic effect. Mrs. Fox confronts Mr. Fox, scratching his face once, leaving a scar. A scary rat is killed in self-defense.



Jeffrey Huston is a film director, writer and producer at Steelehouse Productions in Tulsa, Okla. He is also cohost of "Steelehouse Podcast," along with Steelehouse Executive Creative Mark Steele, where each week they discuss God in pop culture.

To listen to the weekly podcast, please visit www.steelehouse.com or click here. You can also subscribe to "Steelehouse Podcast" through iTunes.


Have something to say about this article? Leave your comment via Facebook below!
advertise with us
Example: "Gen 1:1" "John 3" "Moses" "trust"
Advanced Search
Listen to Your Favorite Pastors