Quirky "Volver" Delivers Ambiguous Moral Message
Annabelle Robertson, Entertainment Critic
Monday, April 09, 2007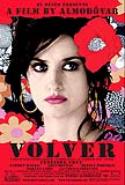 DVD Release Date: April 5, 2007
Theatrical Release Date: November 3, 2006 (LA/NY)
Rating: R (for sexual content and language)
Genre: Comedy/Drama, Art/Foreign
Run Time: 121 min.
Director: Pedro Almodóvar
Actors: Penélope Cruz, Carmen Maura, Lola Duenas, Blanca Portillo, Yohana Cobo, Chus Lampreave
If you enjoy foreign films, you might like the latest by acclaimed Spanish writer/director Pedro Almodóvar. It's a bit quirky and melodramatic, like all of his films, with an ambiguous moral message. Overall, however, it's good filmmaking.
Raimunda (Penélope Cruz) is shocked to learn that her daughter Paula (Yohana Cobo) has stabbed and killed Raimunda's husband, after he sexually abused her. Thinking fast, Raimunda cleans up the blood and drags the body to a nearby restaurant that she happens to be "house-sitting," where she dumps it in the freezer. The next day, someone asks if Raimunda can cater for his film crew. The suddenly-single mom accepts and begins turning a profit for herself and her daughter.
Meanwhile, Raimunda's sister, Sole (Lola Duenas), informs Raimunda that their elderly auntie has died. Unfortunately, Raimunda is too busy catering to attend the funeral, which is in the province of La Mancha, several hours from Madrid. Sole has bigger problems than the neighbor's disapproving stares about her sister's absence, however. Before their auntie passed away, one of them (Blanca Portillo) heard their deceased mother's voice and even thinks she saw her. The neighbors all insist that the mother's ghost has been taking care of the aunt for years. However, Raimunda's and Sole's mother and father died five years ago in a fire.
Sole assumes it's just superstition. Villagers tend to speak such nonsense, especially in small towns. Not only that, but the neighbor who started everything smokes pot. But when Sole returns to her apartment in Madrid, later that night, a voice summons her from the trunk of her car. It's "the ghost" of her mother, Irene (Carmen Maura).
Sole hides Irene in her apartment, which doubles as her hairdressing salon. She tells clients that Irene is a homeless Russian who doesn't speak Spanish, but who is happy to wash hair in exchange for room and board. Soon, however, Raimunda and Paula are asking far too many questions for Sole to keep quiet. What Sole needs to know, though, is how long is this ghost is going to stick around? Assuming she's really a ghost, of course. Then there's the pesky matter of Raimunda's husband's dead body.
A prolific writer and director, Almodóvar has made more than 16 Spanish-language films. He won an Oscar in 2003, for "Talk to Her," but is probably best known in this country for his highly-acclaimed "All About My Mother" and "Women on the Verge of a Nervous Breakdown." Overall, the script for this works well, with snappy dialogue and a cast of uniquely drawn characters who move everything to a satisfying conclusion, happily without the required American romantic cliché.
I would have liked to have seen Raimunda's character grieve. She seems to move on with her life, despite its shocking events, much too easily – encouraging her daughter to do so as well. But this is reality for these hard-working women – a group that Almodóvar seems to understand well – and it's compelling. American audiences must adjust to the subtitles, of course, as well as the European humor, which is far more subtle than our humor, to say the least. But if you're able to overcome these differences, it's a fairly enjoyable film.
Have something to say about this article? Leave your comment via Facebook below!
advertise with us
Example: "Gen 1:1" "John 3" "Moses" "trust"
Advanced Search
Listen to Your Favorite Pastors