Seriously Consider an Exit Strategy Before Going the Distance
Christa Banister, Crosswalk.com Contributing Writer
Friday, September 03, 2010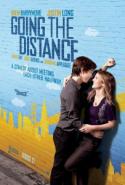 Release Date: September 3, 2010
Rating: R (for sexual content including dialogue, language throughout, some drug use and brief nudity)
Genre: Romantic Comedy
Run Time: 109 min.
Director: Nanette Burstein
Actors: Drew Barrymore, Justin Long, Charlie Day, Jason Sudeikis, Christina Applegate, Ron Livingston, Kelli Garner

Just when you think that modern romantic comedies can't possibly get any worse (thank you, Katherine Heigl), one comes along that's so utterly lifeless, unsophisticated and needlessly raunchy that suddenly, Killers, The Ugly Truth and 27 Dresses don't seem all that bad.

And trust me, I suffered through all three; that's definitely saying something.

The trouble with Going the Distance is that in an effort to defy conventional romantic comedy formula (perhaps like last year's superb (500) Days of Summer), the screenwriter took an intriguing premise—how does a long-distance couple actually make it work?—and immediately shot it in the foot with a bazooka.

With a steady stream of excessive profanity (we're talking a Good Will Hunting level of "f" words here, and that's really only the beginning) and banal, oversexed dialogue that's clearly inspired by fellow filmmaker Judd Apatow but curiously lacks any of his creativity or finesse, Going the Distance replaces important elements like say, character development and a compelling storyline, with one bad gag after the next (see Justin Long's character gets his first spray tan or Justin Long's boy/man roommate goes to the bathroom with the door open).

After all, even Apatow's movies have a discernable heartbeat, which is something Going the Distance is sorely lacking. Sure, fledgling newspaper intern Erin (Drew Barrymore) and record label assistant Garrett (Long) meet cute enough at the local NYC watering hole when Garrett discovers that Erin rocks at his favorite video game, Centipede. But after the falling in love montage abruptly comes to a close and the couple is forced to figure out how their relationship will survive when they're 3,000 miles apart, Going the Distance quickly descends into Snoozeville.

Perhaps sensing that, the filmmakers try and grab the viewer's attention in other ways, namely those aforementioned shenanigans. Just in case we're bored with the lovey-dovey protagonists, there are several throwaway supporting characters. First up, there's Justin's roomies (Charlie Day and Jason Sudeikis, respectively) who despite being in their mid thirties think it's cool to listen in—and serve as the dee-jays—for Justin's hookups. Then there's Erin's annoying, overprotective sister Corrine (Christina Applegate) who doles out relationship advice at the drop of a hat, but goes on and on about the joys of dry-humping with the husband she can barely stand to be in the same room with.

If all those strikes against the movie weren't already bad enough, there's nothing that exactly rings true about the couple in question anyway. Sure, they have physical chemistry aplenty, which makes sense given that Long and Barrymore dated (are dating?) in real life, too. But given that even the tiniest of inconveniences quickly becomes big-time drama, something not exactly befitting of characters who said goodbye to their twenties several years ago, one never senses they're really in it for the long haul anyway. So why bother even getting invested?
Have something to say about this article? Leave your comment via Facebook below!
advertise with us
Example: "Gen 1:1" "John 3" "Moses" "trust"
Advanced Search
Listen to Your Favorite Pastors