Skilled and Carefree Pirates! Entertains
Jeffrey Huston, Crosswalk.com Contributing Writer
Friday, April 27, 2012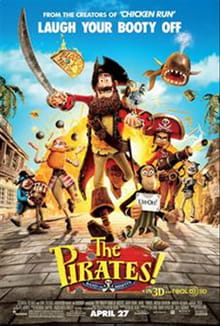 Tonally, this is a broad and unabashed farce, rather smart about its comedy yet never too high-minded or obscure, with odd throwaway one-liner gems like "London smells like Grandma" or cheeky pirate monikers such as The Pirate Who Likes Sunsets and Kittens and The Pirate With Gout. In true Brit fashion it also sinks to gallows humor on occasion (from dining on exotic animals to a joke about the Elephant Man), but always in ways that are amusing rather than morbid. This is a movie that knows how to have fun while refusing to dumb things down.
Visually, Aardman's claymation continues to be a welcome standout in a CG-dominated medium. Even if only on a subliminal level, the real-life figurines with their detailed textures and designs add a sense of reality that other forms of animation (by their very natures) cannot achieve. It's more tangible, with the feeling of literal craftsmanship, which makes some of the feats of visual spectacle all-the-more remarkable. Its 3D is effective, too, but not necessary to enjoy this action-filled romp that also crams visual gags into the film's periphery as if daring you to catch them.
Further fleshing things out is a lively voice-cast, with the most pleasant surprise coming from Hugh Grant in the lead. Unlike most A-list stunt casting, Grant's voice is unrecognizable even when you know it's him—and that's to his credit. Grant isn't just cashing an easy check with a sound-booth gig; his Pirate Captain is a legitimate and fully-realized comic performance, and one of the better displays of his talent in recent memory. A veritable who's-who of British actors (and Al Roker) round out the ensemble, all spot-on in roles that range from supporting characters to side caricatures.
This rousing endeavor is inventive and impressive, taking the art of claymation to new heights, and strikes its lessons with a sincere rather than heavy hand. It also wisely avoids any Darwinian controversy by never even mentioning Evolution, with the few joking references to the theory being shrewdly vague without a hint of indoctrination.
For all its intelligence, ingenuity and creativity, the smartest thing about The Pirates! Band of Misfits is that it simply is what it is unabashedly, and has a blast being just that. It will have children wanting to play sword fight and make adventures of their own, but also to value friendship more than riches. And yes, it'll also have kids wanting to mix baking soda and vinegar with the hopes of combustible effects but, truth be told, you'll probably want to help them.
CAUTIONS:
Drugs/Alcohol Content: There are pubs where pirates hang out and drink, but the drinks are never defined as alcoholic. A couple of pirates act as if inebriated.
Language/Profanity: One use of the A-word.
Sexual Content/Nudity: A shot of nudists on a ship (nothing is exposed). One of the minor characters is a sexy-looking and shapely female pirate.
Violence: Pirate-related violence, including swordplay and gunplay, all in a comical/cartoonish context. A pirate is stabbed by a sword offscreen and falls to the ground on-screen. The arm falls off of a person with the plague. A person is almost beheaded.
Have something to say about this article? Leave your comment via Facebook below!
advertise with us
Example: "Gen 1:1" "John 3" "Moses" "trust"
Advanced Search
Listen to Your Favorite Pastors