Spiritual Allegories Abound in The Seeker
Eric & Lisa Rice, Crosswalk.com Contributing Writers
Friday, October 05, 2007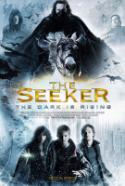 DVD Release Date: March 18, 2008
Theatrical Release Date: October 5, 2007
Rating: PG (for fantasy action and some scary images)
Genre: Fantasy/Drama/Adventure
Run Time: 110 minutes
Director: David L. Cunningham
Actors: Ian McShane, Drew Tyler Bell, Frances Conroy, James Cosmo, Wendy Crewson, Mark Donovan, Christopher Eccleston, Edmund Entin, Gary Entin, Stephen Evans, John Benjamin Hickey, Jonathan Jackson, Emma Lockhart, Alexander Ludwig, Jim Piddock, Gregory Smith, and Amelia Warner
Signs given to seekers … Fear allowing the Dark to use people for its purposes … A Great Hall where no one may enter without an invitation … Ancient, powerful weapons of warfare that combine to conquer the Darkness … A great battle where Dark was defeated but not yet destroyed … A belt that stores powerful treasures for conquering enemies of the Light … Knowing the truth because you've read the book … The smallest of lights shining in the darkness … Mere boys becoming warriors against spiritual forces … These are some of the allegorical spiritual elements in Walden Media's new release, The Seeker: The Dark Is Rising.
Based on the novel by Susan Cooper, The Seeker: The Dark Is Rising is the first film adaptation of the author's five-book Dark Is Rising series. It tells the story of Will Stanton (Alexander Ludwig), a young man who, on his 14th birthday, learns he is the last of a group of warriors. They're "the old ones"—immortal beings, wise and kind—whose role is to defend humans from the threat of "the Dark," a vaguely-defined force of evil with its own immortal members.
Will meets Merriam Lyon (Ian McShane) and Miss Greythorne (Frances Conroy), Dawson (James Cosmo) and George (Jim Piddock), all old ones who have committed themselves to fighting the forces of the Dark. He also comes face-to-face with "The Rider" (Christopher Eccleston), the insidiously evil, free-roaming lord of the Dark who disguises himself as a security guard, doctor, etc., only to try to wrest away the "signs" he knows Will is acquiring. It's up to Will to decide whether or not to believe he's the "sign-seeker" and whether he has the courage to carry out his expected assignment.
Traveling back and forth through time, the young seeker encounters several powerful individuals and groups he must fight, collects the last symbols of ancient power, and ends up in an ultimate confrontation with dark and powerful forces. As the "seventh son of a seventh son," Will finds that he must provide a spiritual completeness to the Old Ones' numbers, which will enable them to move toward their individual and collective destinies ... and their ultimate goal: defeating the Dark.
The Seeker is darker than Walden Media's recent Narnia film, with a tone of National Treasure meets Harry Potter. Apparently the filmmakers have softened the overtly magical elements of Cooper's books, which are more wizard, Arthurian legend and Welsh mythology-based, including "the Old Magic of creation" and "the wild magic." Instead, the movie emphasizes the messages of choosing bravery, faith, discernment, and unity (though there is plenty of magic).
Unlike the Harry Potter movies, The Seeker places the protagonist in the midst of a loving family (though there is a bit too much teasing and practical joking). As a matter of fact, as one of us is the author of a book on parenting, we recommend that parents and children watch and discuss this movie together, particularly the father-son dynamics and the importance of really listening to each other. There are also some great lessons on learning who you can and can't trust.
Production-wise, the movie is beautiful. The cinematography is breathtaking at times, with slow-motion scenes of cold, gray scenery interrupted by one red scarf, or one colorful rubber ball bouncing. The settings are English mansions and schoolyards, ancient wars, dark taverns, and bright malls—plenty of variety and "eye candy" on the screen.
There are some startling, scary images like the Rider's face when it turns rather demonic-and-serpent-looking with claws, etc, a scene of slithering snakes, wild chases that move from the natural to the spiritual realm in a heartbeat, etc. We recommend great caution in bringing young, impressionable children to the movie. That being said, hopefully families will support this Potter-type movie that's devoid of some of J.K. Rowling's darker emphasis (of witchcraft, potions, spells, hopelessness).
The Seeker certainly could have gone farther toward the Christian worldview and symbolism, perhaps naming the weapons that would defeat the darkness such as a shield of faith, or special shoes that would carry him farther and faster on his mission, etc. The filmmakers could have alluded to evil being moral evil, rather than just "The Dark," and there could have been one ultimate being they were fighting for, rather than just "The Light," and the other "old ones." But all in all, it's a good start. And there is sort of a "belt of truth" where Will stores his treasured signs, as well as several other elements that may strike a chord as biblical parallels.
Overall, it's nice to be able to recommend a movie that's fun, entertaining, and good food for thought and discussion by almost the entire family.
CAUTIONS:
Drugs/Alcohol: Bar scenes shown, with some drinking.
Language/Profanity: None.
Sex/Nudity: None
Violence: Fighting in ancient battles, chases through physical and spiritual realms, boy gets cut, etc.
Worldview: Magic-based, with biblical parallels.
Have something to say about this article? Leave your comment via Facebook below!
advertise with us
Example: "Gen 1:1" "John 3" "Moses" "trust"
Advanced Search
Listen to Your Favorite Pastors