Storytelling Stays Light in Transformers 3
Christa Banister, Crosswalk.com Contributing Writer
Wednesday, June 29, 2011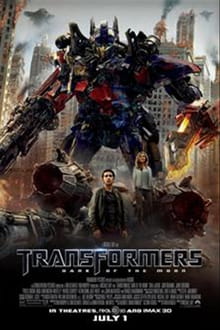 DVD Release Date: September 30, 2011
Theatrical Release Date: June 29, 2011
Rating: PG-13 (for intense prolonged sequences of sci-fi action violence, mayhem and destruction, and for language, some sexuality and innuendo)
Genre: Action, Adventure, Sci-Fi, Sequel
Run Time: 153 min.
Director: Michael Bay
Actors: Shia LaBeouf, Rosie Huntington-Whiteley, Josh Duhamel, John Turturro, Tyrese Gibson, Patrick Dempsey, Frances McDormand, John Malkovich, Kevin Dunn, Julie White, Ken Jeong
Conspiracy theorists, rejoice!
For about 45 minutes, Transformers: Dark of the Moon has a whiff of political intrigue that involves (gasp!) the space program. Apparently while everyone else was blindly believing the hype about Apollo 11, namely that it was a world-changing exploration mission, turns out, it actually was a cover for gathering intelligence on a mysterious UFO that crashed into the moon. And yes, the findings involved those famous robots in disguise…
In an effort to properly sell this slice of revisionist history, a framing device that also worked well in this summer's reboot of X-Men, there's even real news footage featuring President Kennedy and Nixon, not to mention confirmation on the rumor's validity from none other than former astronaut Buzz Aldrin himself.
Unfortunately, that's about all the creativity that screenwriter Ehren Kruger (Transformers: Revenge of the Fallen) could muster before director Michael Bay, not exactly the king of subtlety, takes over with a vengeance. Yes, things get very loud and very dumb in a hurry, yet another instance where storytelling has been kicked to the curb by a series of overly stylized action scenes that are basically the cinematic equivalent of Chinese water torture.
While still an upgrade from 2009's Transformers: Revenge of the Fallen in terms of overall quality, that's really not saying much when the bar was so low to begin with. In fact, there's p-l-e-n-t-y of room for improvement in the inevitable sequels, starting with the lackluster script that has more holes than the streets of Manhattan.
Not only does every attempt at humor fall embarrassingly flat in Dark of the Moon, save for the shameless, guilty pleasure laughs in a cameo from The Hangover II's Ken Jeong, but for whatever reason, they've given our protagonist, poor Sam Witwicky (Shia LaBeouf, Wall Street: Money Never Sleeps) practically nothing to do.
Instead of being involved in a story that matters, Sam has been relegated to merely sulking because he's an Ivy League grad with a presidential medal for bravery and no career prospects. And when Sam's sad sack routine has worn out its welcome, he shifts to jealous boyfriend mode because everyone, including Carly's (Victoria's Secret model Rosie Huntington-Whiteley) slimy, but oh-so-McDreamy boss Dylan (Patrick Dempsey, Valentine's Day) can't get over just how gorgeous she is.
Have something to say about this article? Leave your comment via Facebook below!
advertise with us
Example: "Gen 1:1" "John 3" "Moses" "trust"
Advanced Search
Listen to Your Favorite Pastors