Symbolism Runs Deep in There Will Be Blood
Annabelle Robertson, Crosswalk.com Contributing Writer
Tuesday, April 08, 2008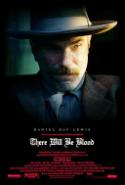 DVD Release Date: April 8, 2008
Theatrical Release Date: December 26, 2007
Rating: R (for some violence)
Genre: Drama, Adaptation
Run Time: 156 min.
Director: Paul Thomas Anderson
Actors: Daniel Day-Lewis, Paul Dano, Dillion Freasier, Kevin J. O'Connor
A reporter once asked John D. Rockefeller, the richest man in the world, how much money was enough. "It's always just a little more than you have," he answered. Such is the dilemma which propels Daniel Plainview (Daniel Day-Lewis) in this excellent adaptation of the classic novel, Oil! by Upton Sinclair.
Plainview is as slick as the liquid gold he sucks from the earth. He begins with one small hunk of silver and the kind of tenacity that makes a man crawl into town with a broken leg. This, along with the cunning ability to present himself as an everyday family man, fuels Plainview's success, which he gains by gobbling up California farms and extracting their oil. Eventually, he becomes a wealthy, influential oil baron. But nothing, it seems, is ever enough for Daniel Plainview.
"I have a competition in me. I want no one else to succeed," he says, in a rare moment of honesty which reveals just how far this man will go in his quest to have it all. In the beginning, it is not all avarice, though. He adopts a baby, after one of his oil workers dies in an accident. He takes the young boy (Dillion Freasier), whom he calls "H.W.," everywhere, teaching him the tricks of the trade. And make no mistake: they are tricks.
So when a young man named Paul Sunday (Paul Dano, Little Miss Sunshine) arrives and offers information about his family's barren land in exchange for cash, Plainview dashes off on a scouting mission. He claims to be hunting for quail but talks the owner (David Willis) into a fast deal. Paul's brother, Eli Sunday (also played by Dano), lets Plainview know he's onto him, however, and the two strike their own deal, which will substantially benefit Sunday's congregation, The Church of the Third Revelation.
Although Plainview eventually succumbs to Sunday's pressure to "convert" (in a disturbing, arresting scene that questions the theatrics of so many altar calls), he doesn't allow Sunday to bless his new oil rig. In so doing, he also fails to place Eli front and center, where Sunday longs to be, and thus confirms the animosity that has been brewing between the two men. Their final showdown will be as riveting as it is bloody.
Day-Lewis is superb, and fully deserving of his Best Actor Oscar. His gravelly-clipped speech and snake-eyed character have understandably been compared to John Huston in Chinatown, although Day-Lewis injects Plainview with a riveting uniqueness which stems not only from his vocal inflections but also his oh-so-subtle mannerisms. In one scene, he glances at his brother and ponders a comment. Then, ever so slightly, he shakes his head and opts to stay quiet. It's a subtle gesture, but one that reveals much—especially in the light of the scene which follows. During the film's climatic ending, Plainview shouts that God is a superstition, and that he is "the third revelation." It's almost as if we are hearing Satan himself.
Dano, as the wily Sunday, is equally good. I would have liked to have seen the actor age more, but he nevertheless keeps us wondering to the bitter end (and even thereafter) whether he believes what he so fervently preaches. Russell Howard, as the adult H.W., is also outstanding as the deaf man who finally gets the courage to stand up to his father, with devastating consequences.
Have something to say about this article? Leave your comment via Facebook below!
advertise with us
Example: "Gen 1:1" "John 3" "Moses" "trust"
Advanced Search
Listen to Your Favorite Pastors