The Campaign Doesn't Deserve Your Vote
Christa Banister, Crosswalk.com Contributing Writer
Friday, August 10, 2012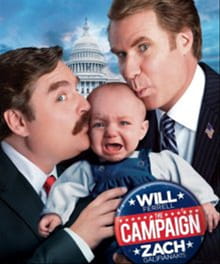 DVD Release Date: October 30, 2012
Theatrical Release Date: August 10, 2012
Rating: R (for crude sexual content, language and brief nudity)
Genre: Comedy/Satire
Run Time: 85 min.
Director: Jay Roach
Cast: Will Ferrell, Zach Galifianakis, Jason Sudeikis, Dylan McDermott, John Lithgow, Dan Aykroyd, Brian Cox
Editor's Note: The following review contains references to this movie's profane subject matter. Parents please be advised.
Considering there's only 87 days left until the 2012 Presidential election, and everyone's already suffering from non-stop news coverage and annoying campaign commercials that practically play in a loop, the timing is right for some light satire about the more ridiculous aspects of the process.
And in the Will Ferrell-Zach Galifianakis comedy The Campaign, there are indeed a few well-placed jabs (sometimes literally) at the reality show circus that's become the race to the White House. Ultimately, however, any sophisticated insight is lost amid the jokes, 90 percent of which scrape the absolute bottom of the barrel.
That's probably not a huge surprise to anyone familiar with Ferrell's work. But for some reason, and maybe it's because it takes so much more to shock us in our post-Hangover world, the humor is in even poorer taste than, say, anything in Step Brothers or Anchorman. While a couple of forty-somethings, Chris Henchy (The Other Guys) and Shawn Harwell (TV's "Eastbound & Down") are credited with penning the script, the punchlines seem more like the handiwork of pimply faced seventh graders engaged in lowbrow locker room conversation. Henchy and Harwell are definitely no Stephen Colbert and Jon Stewart in the political satire department. Even your average Onion writer has more finesse.
As for the plot, it's basically just an excuse for Ferrell (Semi-Pro) and the far-funnier Galifianakis to one-up each other as political rivals. Borrowing a page from his famed George W. Bush "Saturday Night Live" impression, Ferrell sports another exaggerated Southern accent as Cam Brady, the incumbent congressman of his particular North Carolina district. Since he's run unopposed for years, he's learned how to make his constituents happy: primarily by weaving the words "America," "Jesus" and "freedom" into every one of his campaign speeches, even if he's not quite sure why that elicits such a favorable response.
And now that Cam's become the veritable shoo-in, he enjoys testing the boundaries of good taste by routinely cheating on his wife, losing touch with the locals by unabashedly loving excess, and generally acting like a giant buffoon. But all his bravado catches up with him when Cam leaves a sexually charged voice mail for his mistress on the wrong answering machine. Now that he's in hot water for the first time in his career, a couple of opportunistic election riggers known as the Motch (as in "Koch") Brothers are determined to leverage this turn of events to their utmost advantage.
Have something to say about this article? Leave your comment via Facebook below!
advertise with us
Example: "Gen 1:1" "John 3" "Moses" "trust"
Advanced Search
Listen to Your Favorite Pastors