The Kite Runner Can't Overcome Contrivances
Christian Hamaker, Crosswalk.com Contributing Writer
Friday, December 14, 2007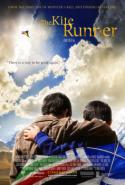 DVD Release Date: March 25, 2008
Theatrical Release Date: December 14, 2007 (limited)
Rating: PG-13 (for strong thematic material including the rape of a child, violence and brief strong language)
Genre: Drama
Run Time: 122 min.
Director: Marc Forster
Actors: Khalid Abdalla, Atossa Leoni, Shaun Toub, Zekeria Ebrahibi, Ahmad Khan Mahmoodzada, Homayoun Ershadi, Nabi Tanha, Elham Ehsas
An outstanding adaptation of a well-regarded book is currently playing at theaters. Unfortunately for fans of Khaled Hosseini's The Kite Runner, that movie is Atonement—not the big-screen version of Hosseini's widely read book-club favorite.

Both films tell of youthful reactions to sexual incidents with long-term consequences, as well as efforts by characters who have done wrong to others to find peace from their accusing consciences. But where the promise in the early portion of Atonement pays off in that film's shattering climax, The Kite Runner ties together its plot threads in a manner that is disappointing—a big come-down from the promising first half hour of Hosseini's story.
The story of two Afghan boys begins in the 1970s, when Amir (Ahmad Khan Mahmoodzada), a Pashtun, and his servant Hassan (Zekeria Ebrahibi), a Hazara who's also the village's best kite runner, run afoul of a group of older boys. The gang leader sexually assaults Hassan, while Amir watches from afar. The rape is not directly shown, but we can hear an exchange between two of the boys that tells us everything we need to know. "My father says it's wrong," says the first boy, but the second boy explains that they need to "teach this donkey a lesson." As the brutalized Hassan staggers away from the scene, we see drops of blood fall between his feet. Amir, who has witnessed the incident from a hiding place, emerges, but makes no mention of the rape to Hassan. Instead, Amir creates distance between himself and his wounded friend.
Amir's father, Baba (Homayoun Ershadi) believes that Hassan is the tougher of the two boys, the one willing to stand up for himself, while Amir prefers writing his stories. This trait leads, in part, to Hassan's confrontation with the older boys who attack him. It also manifests in Baba, who risks his life to stand up to the oppressive governing authorities in Afghanistan. "The mullahs want to rule our souls, and the Communists tell us we don't have any," he says.
The two boys are separated without ever discussing what happened to Hassan, but years later the adult Amir (Khalid Abdalla)—now a successful writer—is summoned back to Afghanistan from America when a family friend calls from Amir's homeland with the cryptic promise, "There is a way to be good again." (The time-shifting film opens with this scene, before flashing back to the events of Amir's childhood.)
What is the mystery behind the man's comment? What can Amir do to make himself "good"—and in whose eyes?
The clean-shaven Amir dons a fake beard and travels back to Taliban-controlled Afghanistan, where he witnesses the cruelty of the horrific regime that has taken over his homeland. However, once the movie shifts away from the childhood friendship to tell Amir's story, it never again achieves the emotional resonance of those early scenes. Amir's wooing of a general's daughter is somewhat affecting, but the film's larger point is to show the inhumanity of the Taliban—something that was done to greater effect in the much better film Osama, from 2003. By contrast, Marc Forster's film features lame revelations that too closely tie together earlier events, ostensibly to provide catharsis for Amir, and for viewers. To call these events a stretch is to put it too kindly. The plot contrivances are insulting.
Have something to say about this article? Leave your comment via Facebook below!
advertise with us
Example: "Gen 1:1" "John 3" "Moses" "trust"
Advanced Search
Listen to Your Favorite Pastors