The Odds Are in The Hunger Games' Favor
Christa Banister, Crosswalk.com Contributing Writer
Thursday, March 22, 2012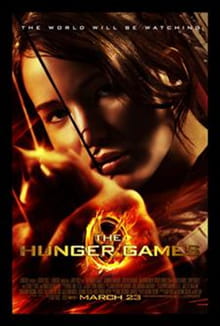 DVD Release Date: August 18, 2012
Release Date: March 22, 2012 (midnight screenings); March 23, 2012 (2D and IMAX theaters)
Rating: PG-13 (for intense violent thematic material and disturbing images—all involving teens)
Genre: Sci-Fi, Drama, Action, Adaptation
Run Time: 142 min.
Director: Gary Ross
Actors: Jennifer Lawrence, Josh Hutcherson, Liam Hemsworth, Stanley Tucci, Wes Bentley, Elizabeth Banks, Woody Harrelson, Lenny Kravitz, Willow Shields, Paula Malcomson

Unlike that other worldwide phenomenon that began with a much-beloved YA novel, Suzanne Collins' The Hunger Games is a story that just about any demographic can appreciate since it doesn't center around a girl who's made a guy/sparkly vampire the center of her universe.

If anything, Bella Swan could've probably learned a few things from Collins' fearless protagonist Katniss Everdeen, namely how to survive—not brood—when the odds are heavily stacked against you.

While Twilight's setting of Forks, Washington was gloomy because of a near constant cover of clouds, the dystopian society known as Panem is even gloomier, thanks to a severe case of income inequality. Now divided into 12 "districts" and ruled by a decadent "Capitol" that apparently takes its outrageous fashion cues and love of all things extravagant from Marie Antoinette, Katniss is a no-nonsense Appalachian girl who's basically stepped into her dearly departed father's role by providing for her family that includes her fragile mother (TV actress Paula Malcomson) and her sweet but perpetually fearful younger sister Prim (TV actress Willow Shields).

Since food is so hard to come by, Katniss (Jennifer Lawrence, X-Men: First Class) is forced to hunt for it with her pal Gale (Liam Hemsworth, The Last Song) even though it's technically illegal. And when her superior bow and arrow skills aren't enough to put food on the table, she's forced to rely on the kindness of strangers, like Peeta Mellark (Josh Hutcherson, Journey 2: The Mysterious Island) who often shares the bread he bakes.

Making matters worse, the reigning government officials go to great lengths to show everyone who's in charge by hosting an annual event called "The Hunger Games." During "The Reaping," a young man and woman from each district called "tributes" are randomly chosen to fight 'til the death—literally. Playing to the bloodthirsty nature of the city crowds, the barbaric event is televised with the last living tribute proclaimed the winner.

As names are selected by the garish emcee Effie Trinket (a virtually unrecognizable Elizabeth Banks, Man on a Ledge), you immediately feel the fear as each "tribute" makes their way to the stage. And now that her little sister Prim has been chosen to compete, Katniss immediately jumps to her rescue and takes her place, the first volunteer from District 12 in the history of The Hunger Games.

Joining Katniss in representing District 12 is Peeta, who has always harbored a secret crush on her. Not nearly as strong or brave as the woman he cares desperately for, his chief asset is charm, not that Katniss is particularly inclined to trust him when he attempts to make small talk. If anything, Katniss is all business as she makes her way to the Capitol.

Armed with nothing more than her well-honed survival instincts and some rather questionable mentoring courtesy of a boozy cynic named Haymitch Abernathy (Woody Harrelson, Friends with Benefits) and Effie, who in a brilliant twist of irony is the etiquette coach, Katniss is determined not to let her family—or her district—down. But how will this unassuming girl make the impression that Cinna (singer Lenny Kravitz) says is crucial to winning? Or remain dispassionate enough to kill her own peers since that's what the contest demands? And how much of herself is she willing to give away in the name of survival?
Have something to say about this article? Leave your comment via Facebook below!
advertise with us
Example: "Gen 1:1" "John 3" "Moses" "trust"
Advanced Search
Listen to Your Favorite Pastors