A Madea Christmas is a Bit Naughty, a Bit Nice
Ryan Duncan, Crosswalk.com Entertainment Editor
Friday, December 13, 2013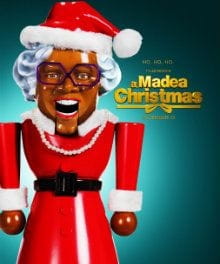 Release Date: December 13
Rating: PG-13 for language, crude humor, and sexual references
Genre: Comedy/Drama
Run Time: 105 minutes
Director: Tyler Perry
Cast: Tyler Perry, Anna Maria Horsford, Tika Sumpter, Eric Lively, JR Lemon, Larry the Cable Guy, Kathy Najimy, Chad Michael Murray
By now, Tyler Perry has made enough Madea movies that most viewers know what they're getting into. Following his usual routine, A Madea Christmas has all the hallmarks of Perry's former installments: A little heart, a little hope, and one pistol-packing grandma. Yes, it's predictable, but that doesn't mean it isn't entertaining. There are moments you can't help but love Madea's sassy, take-no-prisoners attitude, especially when a poignant message about God and family is thrown in. Beneath its layers of vulgar wrapping paper, A Madea Christmas just might be one gift worth giving.
Foul-mouthed grandma,Mabel "Madea" Simmons (Tyler Perry, Good Deeds) is five days away from Christmas when her niece, Eileen (Anna Maria Horsford),bribes her into a surprise trip to visit her daughter, Lacey (Tika Sumpter, Think Like a Man). It turns out Lacey's small town home has fallen on hard times, with tensions building over corporate greed and old grudges. Things become even more complicated when Lacey's in-laws (played Kathy Najimy, Wall-E, and Larry the Cable Guy, Cars 2) stop by to celebrate Christmas, much to Eileen's chagrin. When problems in town reach a boiling point, Madea decides it's time to dish out her own brand of Holiday spirit. Secrets are revealed and relationships are tested as one family tries to survive Christmas together.
Those already familiar with Madea films will know the big thing to watch out for is language. As the grouchy grandma, Perry is no stranger to swear words, using them often and with great relish. Seeing as Larry the Cable Guy rides shotgun in most scenes, you can expect a number of conversations to turn dirty. This may be enough to repel most Christian viewers, and if so it's a shame. Despite all its innuendo, A Medea Christmas actually teaches some solid Christian values.
Perry himself is a committed Christian, and has often described Madea as his way of connecting with a secular audience. The movie doesn't shy away from the subject of faith, if anything, it embraces it with the full wonder of Christmas. God's love is seen as something that illuminates the heart, and Christians, while not perfect, show the capacity for change and forgiveness. Sub-plots about bullying and racism are also explored, and Perry bow-ties those nicely in a simple but genius stroke of writing. Best of all, these messages never feel forced.
Clever dialogue, and some heartfelt performances by the cast, keep away the heavy-handedness often associated with Christian films. True, it's no Chariots of Fire, but then again it's not trying to be. If anything, the movie serves as a reminder that God meets people where they are and not where we'd like them to be. A Madea Christmas wont be for everyone, and odds are viewers already know which camp they'll fall into. Still, it's nice to see Tyler Perry deliver a reliable story that isn't afraid to take risks or speak boldly about what matters most during the Advent season.
Have something to say about this article? Leave your comment via Facebook below!
advertise with us
Example: "Gen 1:1" "John 3" "Moses" "trust"
Advanced Search
Listen to Your Favorite Pastors