Cameron's Unstoppable Stops Short of Providing Promised Answers
Debbie Holloway, Assistant Editor, Crosswalk.com
Thursday, September 12, 2013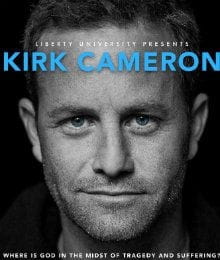 Release Date: In theaters one night only, September 24, 2013. Tickets available at: http://www.fathomevents.com/#!unstoppable/more-info/details
UPDATE: Due to overwhelming demand, a pre-recorded encore presentation of UNSTOPPABLE: A LIVE EVENT WITH KIRK CAMERON will broadcast to select movie theaters on Thursday, October 3, 2013 at 7:00pm local times.
Rating: Not Rated
Genre: Documentary
Run Time: The full live broadcast event includes musical performances and an introduction, and runs approximately 2 hours (approx. 1 hour of which is the actual film).
Director: Darren Doane
Cast: Kirk Cameron
"Why does God let bad things happen to good people?"
In interviews and trailers promoting his upcoming one-night-only event Unstoppable, actor and evangelist Kirk Cameron poses the above question as the starting point and foundation of the film. Cameron has excitedly promised an answer to this age-old dilemma, and he asks his audience to join him on an excursion of faith-cementing significance.
But while Cameron delivers on the hope and victory of the Gospel message in this video-diary of sorts, the journey of watching Unstoppable actually left this reviewer feeling mostly unsettled and unanswered. By the time Cameron talks a big talk at the film's summit, the questions being answered are different from the original ones posed.
The movie – showing only on Tuesday, September 24 in theaters around the U.S. – begins with reiterations of questions asked in the promotional material: "Is there any justice in the world? And why do bad things happen to good people?" Cameron sits (in his living room, on his front porch, in the desert) and tells the story of a family whose young son recently died of a prolonged illness. They are friends of his, and it's easy to tell the devastation of their loss was a catalyst for Cameron to make Unstoppable and tackle the problem of evil and suffering.
To do this, insists Cameron, we must go back to the beginning. We cannot properly understand the pain around us, the pain of today, unless we have a proper understanding of how we got here. This resolve, which would function effectively as a prologue or introduction, actually turns out to be the chief content for roughly 45 minutes of the film's hour-ish length. The "journey" spoken of in the trailers is not a personal pathway of theological reflection, sifting through thoughts and feelings of interviewees, but rather a prolonged foray into Genesis 1-9.
Cameron provides voice-over for the biblical creation narratives. Lengthy, slow-motion artistic re-enactments occur. We see a dramatization of Adam emerging from the mud, depictions of the stories of Adam and Eve, Eve and the serpent, and the Fall of Man before moving on to Cain's murder of Abel. Though the film at this point is different from what I imagined or expected, some of Cameron's points are beginning to shine through:
From the very beginning, humanity has chased after sin.

And as we've disobeyed, rebelled, and murdered, God has shown us mercy and faithfulness.
Though these lessons are discernible as the overarching aim of the film, the moral meanders quite a bit, and not always for the best.
Have something to say about this article? Leave your comment via Facebook below!
advertise with us
Example: "Gen 1:1" "John 3" "Moses" "trust"
Advanced Search
Listen to Your Favorite Pastors