Violent 300 a Perverse Form of Eye Candy
Christian Hamaker , Contributing Writer
Friday, March 09, 2007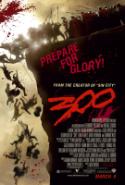 Inspired by the work of graphic novelist Frank Miller (whose work also was the basis for Sin City), the story, ostensibly about one battle, actually combines earlier and later battles between the Greeks and Persians than just Thermopylae. But historical accuracy is not the main concern of 300.
The movie features more bare flesh than any film in recent memory. The flesh is primarily from male upper bodies, but not exclusively so. (Director Zack Snyder says Miller's emphasis on the bare-chested men grows out of a statue of Leonidas in modern Thermopylae, which shows the nude king clad in only a shield, spear and helmet.) The film's hyper visual style fits alongside the deafening roar of its musical score and sound effects.
Visually compelling but saddled with a flat script, 300 is a loud, furious view of early warfare – a shell of a great tale that, for a brief time, covers its weaknesses with striking images. But the bottom falls out early, leading to a punishing sit for those who aren't interested primarily in seeing the myriad methods of death for ancient warriors.
If the film sets a precedent for its striking visual style, we can only hope that the elements that comprise its screenplay go the way of the Persian empire.
AUDIENCE: Adults only
CAUTIONS:
Language/Profanity: Specific Christian terminology applied to God is used to apply to men, particularly the Persian ruler. See "Spirituality" below.
Drugs/Alcohol: None.
Sex/Nudity: A reference to Athenians as "boy lovers"; beautiful young women are used by the Spartans to consult an oracle; a reference to those who take advantage of these women; the king stands naked, with his heavily shadowed backside to the camera; the king and queen's love-making is depicted in a series of explicit erotic images; a woman's chest is exposed; many bare-chested men throughout the film; the queen wears a revealing dress; some homoeroticism; a woman is raped; a Spartan hunchback is invited to indulge his desires during a Persian orgy; topless dancers and a scene of an orgy.
Violence: Skulls and skeletons of dead infants are pictured; a boy is whipped; a snarling wolf is speared; young children are said to be trained in violence, fighting, stealing and killing; a tree is strewn with human corpses; numerous battle scenes are filled with explicit scenes of dismemberment, beheadings and the running through of swords; wounded soldiers on the battlefield are killed while on the ground; soldiers and elephants both plunge over a cliff, to their deaths; death by arrow.
Spirituality: The Persians apply to themselves biblical terminology that applies only to God; charges of blasphemy don't refer to God; the Spartans seek the blessing for battle from those they describe as "senseless mystics" who consult an oracle; a command to "pray to the winds"; a Persian leader calls himself an "emissary to the god of god and king of kings" and later, "the lord of hosts"; a Persian leader refers to his "divine power."

Have something to say about this article? Leave your comment via Facebook below!
advertise with us
Example: "Gen 1:1" "John 3" "Moses" "trust"
Advanced Search
Listen to Your Favorite Pastors