Walking with Dinosaurs is 'Awesome' in 3D
Susan Ellingburg, Crosswalk.com Contributing Writer
Friday, December 20, 2013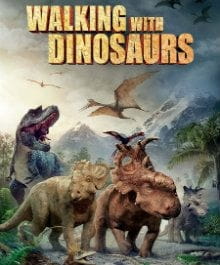 DVD Release Date: March 25, 2014
Theatrical Release Date: December 20, 2013
Rating: PG
Genre: Animation, Action, Family
Run Time: 87 minutes
Directors: Barry Cook, Neil Nightingale
Cast: Justin Long, John Leguizamo, Skyler Stone, Tiya Sircar, Angourie Rice, Karl Urban
Why are so many children obsessed with dinosaurs? Walking With Dinosaurs co-director Neil Nightingale has a theory: "You can be scared of them but not too scared because they are long gone. They're not going to come out from under the bed or pounce on you in the dark!" Whatever the reason, dino-loving youngsters will love this new film, and their parents won't mind it either.
Walking With Dinosaurs tells the story of a Pachyrhinosaurus named Patchi (Justin Long, He's Just Not That Into You). He may be the runt of his litter but he's an adventurous soul always ready to think outside the nest. Patchi is a sweetie; unfailingly optimistic and ever curious, his first response to any new creature is not to run away in fear, but to introduce himself in hope of finding a new friend. Unfortunately for him, most of Patchi's new acquaintances are more inclined to eat him than play with him.
One exception is Patchi's feathered friend, Alex (John Leguizamo). Leguizamo is a veteran of pre-historic vocal work (he's the voice of Sid the sloth in the Ice Age movies), but here he sounds more like he belongs south of the border than the dinosaurs' Alaskan home. Alex is "a kind of precursor to a parrot," Leguizamo explains, "so I adopted a Spanish accent for Alex because most parrots come from Latin American countries." Patchi attracts bugs; Alex eats bugs; theirs is a win-win relationship.
The title Walking With Dinosaurs is meant literally—the story follows Patchi and his herd on migrations led by Patchi's father, the herd's leader. Tragedy strikes, leaving Patchi and his bigger, stronger, but not quite as bright older brother Scowler (Skyler Stone, Stuck on You) to fend for themselves. This could make their relationship stronger, but sibling rivalry is fierce, especially once pretty young Juniper (Tiya Sircar) arrives on the scene.
Nightingale calls Walking with Dinosaurs "a classic coming of age tale. You have two rival brothers, a love story and an epic journey that presents a series of hurdles for Patchi to overcome." Between you and me, the love story part is a little lame, but probably just about right for a target audience with an age range in single digits.
All in all, this film feels a lot like something you'd see at the IMAX theater inside a really good science museum. It has plenty of educational value: when a new creature arrives on the screen its image is frozen for a "Dinosaur ID Card" and their official name and feeding habits (omnivore, carnivore, herbivore, insectivore) are read and displayed on screen. Not only do these little teaching moments identify the dinos, they help the audience know whether Patchi's new acquaintance is friend or foe. In addition, the dialogue includes some mighty impressive vocabulary words and they're not all scientific lingo. The dinos do talk but their lips don't actually form the words, which somehow makes it more believable rather than less.
Have something to say about this article? Leave your comment via Facebook below!
advertise with us
Example: "Gen 1:1" "John 3" "Moses" "trust"
Advanced Search
Listen to Your Favorite Pastors