Woody's Worth Increases with Cassandra's Dream
Christian Hamaker, Crosswalk.com Contributing Writer
Tuesday, January 22, 2008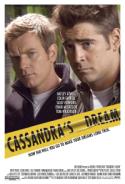 The film plays as a drama, although some in the audience at the screening I attended laughed as Howard pushed his extreme solution on the brothers. Allen himself has suggested that Cassandra's Dream mixes elements of comedy with serious drama, without specifying where the comedy comes in. I'm not convinced that we're supposed to laugh at any of Cassandra's Dream, although many audience members surely share Allen's well documented nihilistic worldview. Therefore, Wilkinson's desperation may strike some viewers as amusing.
How one judges the merits of Cassandra's Dream depends in part on what one thinks of the tone of the story. If there's comedy in it, do the jokes fall flat? Are the jokes so nihilistic that they aren't amusing? Is the movie a straight drama? Certainly the tone of the story is serious, and the actions the characters take have mortal consequences. The idea that someone threatened by someone else might decide to have that threat removed is not unheard of in real life. And although movies have sometimes used this premise to comic ends, Cassandra's Dream feels much closer to tragedy than it ever does to comedy.
The book of Proverbs tells us, "He who conceals his sins does not prosper, but whoever confesses and renounces them finds mercy" (28:13). In the New Testament we read, "Nothing in all creation is hidden from God's sight. Everything is uncovered and laid bare before the eyes of him to whom we must give account" (Heb. 4:13).
Terry's words, after he's committed the film's central sin, show the truth of God's revelation. "What if there's a God?" he asks Ian. "We're crossing the line. We broke God's law. … I want this off my neck. … I want the slate wiped clean." But Ian has other ideas.
Terry can't find a way to wipe the slate clean, and Cassandra's Dream offers no ultimate hope for Terry to see his sin atoned for. However, Terry's need to confess his sins is biblical and admirable. Likewise, Cassandra's Dream is an admirable film with biblical themes, and it reveals a director and screenwriter still grappling with Judeo-Christian notions of morality. He's had some high-profile moral failings, but Woody Allen's latest films shows that God's not finished with him yet.

Questions? Concerns? Contact the writer at crosswalkchristian@earthlink.net.
CAUTIONS:
Language/Profanity: Lord's name taken in vain; profanity; a man says two attractive people have a "duty to reproduce"; discussion about whether an actress would sleep with someone to get a part.
Drugs/Alcohol: Lots of drinking; abuse of prescription drugs; smoking.
Sex/Nudity: A woman in bed talks to man with a towel around his waist after they've had sex; an actress in a play lies in bed, coming on to a man; some kissing; the actress is said to be nude in the play and to engage in kinky sex, although these things are not shown; two people are shown having sex under the sheets; a man's live-in girlfriend hopes to get pregnant by him.
Violence: A man is shot offscreen; another murder is planned but not carried out; a brawl has fatal consequences.



Have something to say about this article? Leave your comment via Facebook below!
advertise with us
Example: "Gen 1:1" "John 3" "Moses" "trust"
Advanced Search
Listen to Your Favorite Pastors