You're Better Off Without Ted
Christa Banister, Crosswalk.com Contributing Writer
Friday, June 29, 2012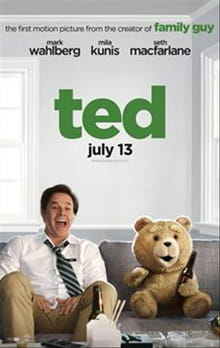 While anyone with even a shred of self respect wouldn't be in this position to begin with, you can't drag out a five-minute plot for just shy of two hours without some filler, right? So in addition to this gripping dilemma with John and Lori, we've got a subplot involving an obsessive Ted fan (yeah, he's a bit of a celebrity, naturally) who's dead set on stealing him from John, another shred of a story where Lori's smarmy boss (Joel McHale, TV's Community) makes inappropriate advances toward her and a slew of jokes that totally scrape the bottom of the barrel for a laugh.
Really, the only thing more curious than why this drivel was green-lighted in the first place was that Norah Jones (yes, the GRAMMY Award-winning singer who made smooth jazz more than a punchline) decided to join in the ridiculousness. While the inclusion of her performing one of her hits was quite possibly the classiest thing about this whole torrid affair, hearing her say she wishes she'd slept with Ted again was just plain icky.
Incidentally, that's pretty much the perfect word to describe what goes down in Ted. It's exactly what a great summer movie shouldn't be—positively icky to the core.
CAUTIONS:
Drugs/Alcohol: Social drinking, sometimes to the point of drunkenness, depicted. While the rating says "some drug use," there are actually several scenes where drugs are used with abandon (and yes, Ted himself is the worst offender.)
Language/Profanity: The full range of profanity, particularly the "f" word, is used consistently. God and Jesus's names are also misused on several occasions, and there is plenty of rude, scatological humor throughout.
Sex/Nudity: Sex is frequently discussed in the crudest way possible, and there are numerous double entendres, cheap jokes at the expense of homosexuals and offensive references to male and female genitalia. Ted has sex with a co-worker on several occasions and talks about using a parsnip since he lacks the proper anatomy. A woman is shown topless at a party (Ted drew Garfield's face on her breasts). Ted grabs a woman's breast. In another scene, Ted suggestively sucks on a chocolate bar like he's performing oral sex on a man. Ted also enjoys the company of hookers when they're available. Two men hold hands and share a kiss in one scene. We see John and Lori passionately kissing in bed in one scene (it's implied they sleep together regularly, but it's not shown on-screen). Lori wears only a towel in a scene (only her cleavage is showing).
Violence: Mostly of the comedic variety. But Ted does have a rather aggressive side, and when he and John are mad at each other, the situation escalates quickly and John winds up with a heavy TV on top of him. Ted is also pursued by a stalker and loses some of his stuffing and "ligaments" along the way. The "Jewish kid" is beaten up by a bunch of bullies.
Have something to say about this article? Leave your comment via Facebook below!
advertise with us
Example: "Gen 1:1" "John 3" "Moses" "trust"
Advanced Search
Listen to Your Favorite Pastors