Young People Love Like Crazy
Christian Hamaker, Crosswalk.com Contributing Writer
Friday, November 04, 2011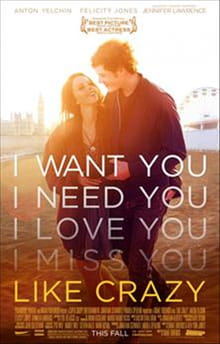 DVD Release Date: March 6, 2012
Theatrical Release Date: October 28, 2011 (limited); November 4, 2011 (wider)
Rating: PG-13 (for sexual content and brief strong language)
Genre: Drama, Romance
Run Time: 90 min.
Director: Drake Doremus
Actors: Anton Yelchin, Felicity Jones, Jennifer Lawrence, Charlie Bewley, Alex Kingston, Oliver Muirhead, Finola Hughes
Young people do stupid things. This includes, perhaps especially, young people in love. For proof, look to Like Crazy, but try not to be too tough on the two lovebirds at the heart of this nicely performed, sometimes frustrating tale of frustrated desire and flaky commitment. They love each other but are having a dickens of a time figuring out what that means once the initial heat of their relationship cools into the long-term commitment they think they want.
Jacob (Anton Yelchin, Terminator Salvation) and Anna (Felicity Jones, Chéri) meet while in college in Los Angeles. Romance blooms quickly for the two students, but there's a looming problem. Anna is in the States on a visa, and she'll soon have to return to her native England. Should she and Jacob bother to pursue a relationship in the face of such an obstacle?
They do. They bond over a mutual love of Paul Simon's "Graceland." They sit on Anna's bed writing each other notes. At the end of their first date, they look longingly at one another through Anna's apartment door. We don't see any sexual activity—yet—but it's not long before Anna's mom (Alex Kingston) is asking the couple, point blank, if they're "being careful." Like Crazy soon removes any lingering doubt about the extent of Jacob and Anna's romantic involvement, showing them waking up together, snuggling and mooning at each other.
And yet, relationship-development scenes that come across as clichéd in most romantic films work nicely in Like Crazy, due in some part to an effective instrumental soundtrack music that doesn't dictate our emotional response so much as underline the budding romance between Jacob and Anna. A montage of shared romantic moments between the couple—that hoariest of movie clichés—is pulled off painlessly in Like Crazy, lulling us ahead of the departure we know Anna will have to make once the school year ends.
She decides instead to overstay her visa—"we can stay in bed all summer," Anna tells Jacob. It's a decision that will haunt the couple throughout the rest of the film. When Anna eventually departs the States and tries to return, she's held up by immigration officials due to her earlier violation. Soon the couple has broken things off, but the breakup is temporary.
When they reconnect in England, Anna's dad (Oliver Muirhead, The Social Network) suggests a solution that will be much cheaper than flying across the ocean every time they want to see each other: Get married. They dismiss the idea and move in the other direction, wondering if things might be easier if they see other people. When that approach presents problems of its own, Anna raises the idea of marriage—without any prompting from her father. While the couple spends time apart, things between them disintegrate. Jacob takes up with Sam (Jennifer Lawrence, Winter's Bone) and Anna with neighbor Simon (Charlie Bewley, The Twilight Saga: Eclipse).

Watching Like Crazy is a frustrating experience, but not without moments of recognition. We've all made foolish relationship decisions, and we've suffered the consequences. Anna's decision leads to heartache and pain, but it also helps Jacob and Anna see their need for a deeper, lasting commitment. The problem is that they have no foundational principles for marriage. Anna's parents are still together and Jacob's dad is long deceased, but they have no idea what marriage means beyond a nagging hunch that they'd like their relationship to have a more permanent status. Without any moral foundation, they're unprepared for the struggles imposed by the separation forced upon them.
Have something to say about this article? Leave your comment via Facebook below!
advertise with us
Example: "Gen 1:1" "John 3" "Moses" "trust"
Advanced Search
Listen to Your Favorite Pastors