15 Things You Probably Didn't Know About: Derek Webb
Michael Nolan, CCM Magazine
Tuesday, September 28, 2004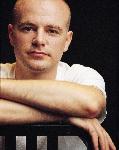 More than two years after his departure from Caedmon's Call, INO Records' Derek Webb is charting an unconventional course as an artist. For his first solo album, "She Must and Shall Go Free," this student and teacher of theology sang about the life of the church. Derek's follow-up, called "The House Show," was recorded in a living room setting that took the concept of an "unplugged" concert album into new territory as he interspersed teaching with stripped-down versions of his songs. For his next release, due this fall, he'll focus his attention on relationships.
Derek took time while traveling in Europe to answer our questions.
15.  My Mom, the Tattoo Artist
Derek's first tattoo, an ichthus, was etched by his mom, who was experimenting with a new hobby — applying permanent make-up. She used the skill primarily used for non-fading eyeliner to try her craft on her willing son's ankle.
14.  Theological Body Art
Tattooed on his left arm, Derek has the five tenants, or "solas" of the Reformation. Written in Latin, they translate as follows: "Scripture alone," "Christ alone," "grace alone," "faith alone" and "to God alone be the glory." "I have a Canterbury cross on my left forearm, a Celtic eternity knot around my right arm and the Greek word for 'grace' on my right thumb," he says.
13.  Dressed to a "T"
Derek never intended to make a fashion statement when he started wearing white t-shirts — he just needed something that could be packed en masse for relentless touring with Caedmon's Call. "I haven't thought about what I was going to wear on any given day for better than 10 years," he confesses.
12.  One Roof, Two Songwriters
Being married to a songwriter, Derek says, "can be very inspiring. Lots of great songs are written in my house. Unfortunately, few of them are being written by me. We're really different writers with different writing processes. So it can be frustrating to wake up and hear three new songs that she [independent artist Sandra McCracken] has written that morning that are all brilliant, and I haven't written anything in months."
11.  And He Quotes: 
Derek is inspired by the words of a Scottish Puritan named David Dickson, who was asked on his deathbed how it was with his soul. His response: "I have taken my good deeds and my bad deeds and thrown them together in a heap. Then I have fled from both of them to Christ, and in Him I have peace."
10.  Hidden in the Vault
Perhaps Derek's most unusual composition was a song recorded for Caedmon's Call's "Long Line of Leavers" that didn't make the album's final cut. Titled "Famous Last Words," it is a song about his transition from adolescence to adulthood, becoming a full-time musician and dealing with his mistakes. The first two verses were written from the perspectives of a squirrel and a dog. He confesses, "I have no idea what I was thinking."
9.  Recommended Reading
"For the most part, I like to read dead guys — church fathers, Puritans, reformers," Derek observes, "But there are actually some great books coming out right now." On his reading list:  "Reaching Out Without Dumbing Down" and "A Royal 'Waste' of Time" by Marva Dawn, "The Enduring Community" by Brian Habig and Les Newsom, "Risking Church" by Jim Kallam Jr., "Stop Dating the Church" by Joshua Harris, "New Way to be Human" by Charlie Peacock and "The Rock Cries Out" by Steve Stockman.
Have something to say about this article? Leave your comment via Facebook below!
advertise with us
Example: "Gen 1:1" "John 3" "Moses" "trust"
Advanced Search
Listen to Your Favorite Pastors