17 Things You Probably Didn't Know About: MercyMe
Michael Nolan, CCM Magazine
Monday, February 16, 2004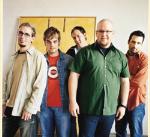 You could call MercyMe the "little band that could." Without changing its mission or the message the band started with in 1994, this rock-edged worship act has won the favor of countless Christian listeners as well as climbed to the pop-chart stratosphere most often reserved for "American Idol" winners these days.
With album sales already topping the 1.5 million mark, the band's music is everywhere, and so are the guys. In fact, Amy Grant will be performing before them when they co-headline 25 dates this month, and the band will hook up this summer for a worship tour with Michael W. Smith. Through the wonder of e-mail and cell phone technology, we sought to explore new realms with Bart Millard (lead vocals), Nathan Cochran (bass), Mike Scheuchzer (guitar), Robby Shaffer (drums), Jim Bryson (keyboards) and Barry Graul (guitar).

17. Rock on, Grandma!
The band's name came from Bart's grandmother during his days as a youth ministry intern at a Florida church. Concerned that he seemed to be home whenever she called, she chided, "Well, mercy me! Get a real job!" As Bart observes, "So here we are with a name that reminds us that one day we will have to get real jobs."
16. A liberating message
After "I Can Only Imagine" aired on a cellblock radio tuned to a soft-rock station, a prison guard wrote the band about its impact. As the guard walked past the cells, he found some of the prisoners on their knees worshiping, some weeping and others just sitting in awe. "When you hear this and realize God is using you more than you could ever think, it's not hard to know you are not in control of your career — God is," offers Robby.
15. Left Behind: not the book series or the movie
When you travel as much as this band does, some things are just bound to be forgotten along the way. Among the MIA: gallons of shampoo and conditioner, microphones, cables, clothes, wallets — and even the monitor guy.
14. Un-spoken for
When he was 18, Bart had a throat operation that kept him from talking for three months.
13. Funny ... these Christians seem almost human
This year MercyMe has popped up on all sorts of radio shows, including the rowdy Fitz radio program in Dallas. The guys entered the interview with a sense of apprehension about how they would be treated. "Come to find out, they were more nervous than we were," recounts Robby. "People on the mainstream circuit treat us like you would a pastor but love it when we turn out to be normal like them."
12. Road rules
If you hit the road with MercyMe, there are a few things you should know: Pick up after yourself, don't touch the thermostats for any reason and always take leftovers out of the fridge. And always remember the tour motto: "If it's funny, it's fair."
11. Glamour-free resumés
Prior to playing, the guys were paying their dues. Barry sold paint and auto parts, Nathan worked at Lowe's, Mike helped people have a "Blockbuster" night in the video rental biz, Jim was a studio engineer, Robby worked at a law firm and Red Lobster, and Bart cleaned out tanks at a sewage treatment plant. We can only imag … no, we can't.
10. And the home of the brave
According to Nathan, two key criteria had to be met for Barry to join the band: He had to like golf and know all the words to the national anthem.
9. Mercyme's everyday wear
Stryper wore black-and-yellow spandex onstage, Amy Grant had that leopard-print jacket, and MercyMe's look is … ? "Pretty much whatever is ironed at the time," offers Bart.
Have something to say about this article? Leave your comment via Facebook below!
advertise with us
Example: "Gen 1:1" "John 3" "Moses" "trust"
Advanced Search
Listen to Your Favorite Pastors