17 Things You Probably Didn't Know About: Steve Taylor
Michael Nolan, CCM Magazine
Sunday, March 28, 2004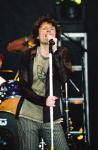 In 1983 Sparrow Records took a chance on a lean, limber youth pastor who cartwheeled and pogo'ed his way into Christian music with an eclectic, enlightened take on punk rock and some mariachi and African tribal callbacks along the way. Steve Taylor broke new ground for Christian music, becoming the first modern rock artist to start selling more than 100,000 copies per album. (Can you say 150,000-plus?) Highly successful turns as a writer, producer (Newsboys, Sixpence None the Richer), music mogul and video director have augmented his career, and Taylor is now focused on the film industry (as a director/producer) with production underway on his first project titled "Second Chance."

26. Coming attraction
"It's 'Training Day' set in an inner-city church," Taylor says of his first feature-length film. Co-written with Ben Pearson and Chip Arnold, cameras roll this summer with a target release date of early 2005.
25. Out with the old, in with the new
"Now I'm in the position of convincing savvy movie people that I'm not just another musician dilettante who thinks it might be fun to make a movie. And I know how they feel," laments the film school alum. "Every time I hear about Russell Crowe, Kevin Bacon or Keanu Reeves playing in a band, I'm immediately suspicious."
24. If only …
While Steve is stepping out of the musical spotlight these days, we wondered what he'd sound like if he were just getting started. "I'd probably be doing hip-hop — maybe something like The Streets."
23. Taking a walk on the mild side
His icon-blasting satire earned him a reputation as a wild child in the mild, formative years of contemporary Christian music. His take: "It's all relative, isn't it? In a genre not particularly known for renegades, it was like being called the 'Teletubby with Attitude.'"
22. Talent scout
Aspiring musicians often ask, "What does it take to make it as an artist?" With a strong record of predicting success, Steve enthuses, "You've got to have undeniable talent; you've got to have a good work ethic; and, ideally, you need to have at least one thing about you that's unique. In concert Chevelle has an amazing 'telepathy' that probably comes from being brothers. L.A. Symphony has all these world-class rappers combined into one crew. With Sixpence, it was Leigh's uniquely beautiful voice singing Matt's songs."
21. "Kiss" and tell
Although Steve was an ardent believer in Sixpence, even he was astonished by the band's success with "Kiss Me." He recalls, "The odds were insane: The band had been on the verge of breaking up, Squint was an indie start-up with no major label affiliate, and this was our first album. I knew 'Kiss Me' was a catchy track, but the original lyrics weren't very memorable. Matt went back to work on it and returned with something so poetic and accessible I knew we had our first single." Following a year of relentless performance and promotion, the song took off. "Ultimately, the biggest surprise to me was the way 'Kiss Me' traveled around the world, spreading love and good cheer to the ends of the Earth. My only disappointment was that it didn't win a Nobel Prize."
20. Don't set up the card table on his account
"My nieces and nephews make me play Monopoly on holidays," he moans. "It's torture."
19. Turf talk from a thin, white guy
Although he's not really a football freak, he says, "I'm a Broncos fan because I grew up in Denver, so I had no choice. It's like skiing — you do it because it's the law. I follow the [Tennessee] Titans because I'm planning on trying out for the team this spring."
Have something to say about this article? Leave your comment via Facebook below!
advertise with us
Example: "Gen 1:1" "John 3" "Moses" "trust"
Advanced Search
Listen to Your Favorite Pastors