17 Things You Probably Didn't Know About: Steve Taylor
Michael Nolan, CCM Magazine
Sunday, March 28, 2004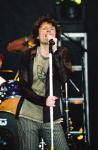 18. Clone cook-off
To mark the 20th anniversary of his 1983 debut EP, "I Want to Be a Clone" (Sparrow), Steve reports he "burned an exact duplicate of the original."
17. Procrastinate later
In 1987, he released an album called "I Predict 1990" (Myrrh). Will there be a follow-up for 2010? "Yeah," he sighs, "that sounds like a reasonable deadline. You can't rush these things."
16. Two artists, one house
Many may not know that Deb, Steve's wife, is an award-winning artist (a.k.a. D.L. Taylor) who works primarily in oils. (One of her paintings is in more than one million homes ... as the front cover of Sixpence's 1997 self-titled album.)
15. Cell lockdown
Unlike most entertainment biz folks, Steve resisted getting a cell phone for years. He's finally given in but uses it sparingly.
14. Playing favorites
"I recently came across a fan site that did a poll of their favorite Steve Taylor songs, and I was surprised how closely their top picks corresponded with mine," he observes. "'The Finish Line' was number one, which I'd probably agree with. And in the top 20 were songs like 'Jim Morrison's Grave,' 'Clone,' 'Hero,' 'Jesus Is for Losers,' 'Cash Cow,' and 'Since I Gave Up Hope, I Feel a Lot Better' — all of which I still like. There are also many of the songs I'd written with [Newsboys'] Peter Furler and most of what I wrote with my bandmates in Chagall Guevara. I could list the songs I've written that I don't like, but, thankfully, they haven't conducted that poll yet. "
13. Duet dreams
Unlike most artists of the past 20 years, Steve has never recorded a duet with Amy Grant, Sandi Patty, Russ Taff or Christine Denté. But his ideal? "I wanted to join L.A. Symphony, but they never asked me."
12. His own divine discontent
"I was always surprised when other label heads would admit to me that a particular act of theirs wasn't very good but that they signed it because it would sell," he laments. "Why would you pour your life and the life of your staff into something you don't believe in? If it's good and it doesn't sell, at least it's still good. If it's bad and it doesn't sell, everybody involved looks foolish and desperate."
11. Guilty (dis)pleasures
Steve has very good intentions of answering his fan mail — even those letters he read long ago and hauled to the attic when he couldn't keep up with the volume. "It's like 'The Telltale Heart' up there. I guess I could have hired someone, but my signature is too illegible to be properly forged."
10. All sarcasm aside
For the past few years, U2's Bono has devoted himself to D.A.T.A. (Debt, AIDS, and Trade for Africa), his organization that is strategically pushing for assistance from the world's wealthiest nations. Steve became actively involved by producing a video of Christian artists calling on the church to rise up in support of Africa. "The response was unlike anything I've ever seen in Christian music," he gratefully acknowledges. "Bono was surprised at how quickly the evangelical church led the charge and how effective we were in gaining government support. We were able to mobilize thousands of people who politicians rarely hear from." In December, President Bush announced more than $2 billion in developmental help had been designated for use, primarily in Africa.
9-1. movie maniac
An avid moviegoer, Steve sees 60-70 films a year in theaters. For your consideration, here are his favorite movies for each decade.
1920s: "The Passion of Joan of Arc" 
1930s: "The Rules of the Game"
1940s: "The Bicycle Thief"
1950s: "The 400 Blows"
1960s: "Once Upon a Time in the West"
1970s: "Barry Lyndon"
1980s: "Tootsie"
1990s: "Rushmore"
2000s: "The Lord of the Rings" trilogy

© 2004 CCM Magazine.  All rights reserved.  Used with permission.  Click here to subscribe.
Have something to say about this article? Leave your comment via Facebook below!
advertise with us
Example: "Gen 1:1" "John 3" "Moses" "trust"
Advanced Search
Listen to Your Favorite Pastors