19 Things You Probably Didn't Know About: tobyMac
Michael Nolan, CCM Magazine
Wednesday, May 26, 2004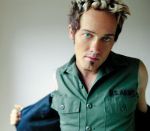 "I love a lot of styles of music," confesses tobyMac (a.k.a. Toby McKeehan) whose solo debut, "Momentum" (ForeFront), is both an album title and a description of his career. The dc talk founder, Gotee Records co-founder and now solo artist describes his music: "I love blending guitars, wurlitzers, reggae bass lines, banjos, etc., with a foundation of hip-hop. Old school, new school, multi-cultural; everyone's invited."

And what a mixmaster he is, rolling out a welcome mat that extends across the board. Now, let's get this party started.

19. Pre-dc
If you think Toby McKeehan's only group was dc talk, we need to talk. In high school, he was in a quartet that primarily sang Negro spirituals. "I was 2nd tenor, but I should have been 3rd. [Note: There is no 3rd tenor.] We wore good ol' red, white and blue, complete with those fashionable flag ties."
18. Speaking of threads …
Always a walking fashion statement, Toby finds his clothes "everywhere." Some are designer duds, some come second-hand, and some Toby designs himself. "I like mixing it up, putting things together that shouldn't be together… kinda like my music. Dirty urban, rootsy urban, urban punk -- that's me."
17. Hat trick
If you've seen many pictures of Toby, you know he wears many hats -- but just how many does he own? "I have no idea. I go through cycles. I'll wear one everyday for a few months and then put it down, just to rediscover it a year later."
16. Down with Dad
When you see Toby, your first thought probably isn't "Wow, he's a father of three," unless you hear him bragging about his kids. Truett, his 5-year-old, made his first shot in his basketball league recently. "Actually," claims the proud papa, "he was three for four -- that's 75 percent from the field, but I wasn't counting -- I promise." Moses and Marlee, his twins who are about to turn 2, "light up my life. When I test my demos on them, they bounce to 'em."
15. Parents' night out
When he and his wife, Amanda, get a babysitter, they usually go to dinner at their favorite little spot, maybe get coffee and always hit a movie for a little mental escape/adventure. His standard concession stand picks: popcorn, Sourpatch Kids and a Pepsi.
14. Sports huddle
Although his years in Nashville have cultivated a love for the Tennessee Titans; as a kid, Toby lived next door to Washington Redskins coaching legend Joe Gibbs, who is coming out of a 15-year retirement to lead the 'Skins again. Toby's take: "First loves never die, especially when your coach is back. I can't wait for the season. Gibbs rocks!"
13. Friends reunion?
The Internet is always abuzz with talk about when and if Toby, Kevin Max, and Michael Tait will reunite for a dc talk album. We went to the source to find out what's goin' down. "We're all on solo adventures for now and still enjoying that ride. I don't know … how long do you officially have to wait to call it a 'reunion'?"
12. Truly higher education
ERACE, the organization co-founded by Toby to promote racial reconciliation is taking its mission to a new level. "We just got approved and will begin the ERACE Institute this summer. It's actually college accredited. We're finally putting feet on a dream."
11. Go Tee, Gotee
Gotee Records got its name from the crowd yelling "Go T" to rev Toby up during dc talk concerts. Says the music mogul: "We have an incredible roster of passionate artists with vision. My greatest role is finding the artists who inspire me and then helping them make a recording that will inspire the world."
Have something to say about this article? Leave your comment via Facebook below!
advertise with us
Example: "Gen 1:1" "John 3" "Moses" "trust"
Advanced Search
Listen to Your Favorite Pastors