22 Things You Probably Didn't Know About: Pillar
Michael Nolan, CCM Magazine
Friday, January 30, 2004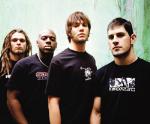 Lightning struck with the release of Kansas-bred Pillar's "Fireproof" (Flicker), as the title track held the No. 1 spot on R&R's Christian Rock chart for an unprecedented 11 weeks and garnered mainstream attention. Winner of the "Artist You'd Most Like to See on CCM's Cover (But Haven't Yet)" Category, Pillar's recent CD, "Broken Down — The EP," bridges the gap between albums with acoustic performances, one new studio cut and multi-media goodies. "We wanted to be more passionate," explains lead singer Rob Beckley. "We didn't want to hide behind the distortion." We set out to learn more about him and bandmates Noah Henson (guitar), Kalel (bass) and Lester Estelle (drums). Here's what we uncovered in our little Pillar talk.

22. Healthy Is Subjective
So who eats the healthiest? Kalel says, "It's who eats the least amount of pizza and burgers." Noah and Rob win with moderation.
21. No Mein Beats Lo Mein
Please don't offer to treat Pillar to Chinese food. Due to a volatile experience with MSG, Rob steers clear of chopsticks.
20. Tidy Rock Stars
You can't rock 24/7. In Pillar's downtime they have at home in Tulsa, Okla., where the guys tend to help around the house. "I don't know if our fans ever imagine me mopping the floor," comments Kalel.
19. There's Always a Gaither Connection
You might not think of Bill Gaither and Pillar in the same sentence, but there is a tie that binds. Lester's dad plays guitar for the Gaither Vocal Band.
18. Broken Down — For Real
The members of Pillar are not strangers to mechanical difficulties; yet, they've never missed a show. Their 1957 GM bus bit the dust in Midland, Texas, several years ago and remains at a junkyard there.
17. Travel Tips
Kalel notes the value of a cell phone with a companion plan. "I know of people in other bands who have run up a $900 bill."
16. Drum Riff
You may have heard about a mighty wind collapsing some rigging seconds after Pillar exited the stage, midset, during a concert last August ["Insider," October CCM]. All avoided calamity except Lester's brand new drum kit, which only sustained a scratch on the floor tom.
15. A Scorn for Porn
In keeping with the message of its song "Behind Closed Doors," Pillar endorses the work of xxxchurch.com, a Web site intent on helping people escape the snares of pornography. "I know the consequences," affirms Rob and notes that its founders are "very passionate about helping people."
14. No Explanation
People wonder how Rob, as lead singer, can scream and sing night after night without losing his voice. Well, you won't get any clear answers here. "It just happens," he deadpans.
13. Bus-Free Travel
Pillar spends a ton of time on the road. But when the band is bus-free, what do the guys drive? Lester cruises around in a S-10 Blazer, Rob trucks around in a Ford F-100 extended cab, Kalel drives his Pontiac Grand Am, and Noah looks for rides because he hasn't owned a car in years.
12. Non-Metallic Tunes
Yes, you'll find rockin' albums aplenty aboard Pillar's bus, but there are a few unexpected surprises as well. Noah's into Harry Connick Jr.; Lester's diggin' Fred Hammond and Justin Timberlake; and Rob's going retro with Earth, Wind & Fire.
11. Who Would Name a Kid "Kalel"?
Jor-el and Lara, Superman's parents — that's who. Seems that Pillar's Kalel wanted to be Superman when he was young. He took on the name for the stage, while his alter-ego, Michael Wittig, worked as a booking agent. "I didn't want to say, 'Hey, this is the bass player from Pillar. Would you like to book a show?'"
Have something to say about this article? Leave your comment via Facebook below!
advertise with us
Example: "Gen 1:1" "John 3" "Moses" "trust"
Advanced Search
Listen to Your Favorite Pastors