9 Questions with Philmont
Ben Olin, CMCentral.com
Thursday, July 30, 2009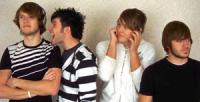 What better conversation to eavesdrop upon than one musician we love interviewing another one we're excited about.
In this case, This Beautiful Republic's Ben Olin recently accepted his first CMCentral assignment to get the inside scoop on Philmont, an impressive new act on ForeFront Records. Philmont front man Scott Taube answers Olin's questions in this CMCentral exclusive.
Ben Olin (This Beautiful Republic): You create all of your own music videos. How long does that typically take from concept to final cut?
Scott Taube (Philmont): It all depends on the video really. Most of them spend a couple weeks up there in the brain getting figured out. Then we do some screen tests and pre-production stuff. We usually get the set built in a day, shoot the next day and spend the next couple of weeks editing. I usually spend all day and night editing after we shoot. We're always so eager to see how the videos are going to turn out!
Ben: What do you think your band brings to the newly reborn ForeFront Records?
Scott: I think we bring a really fun sound and a really fun live show to the audience. ForeFront's always been focused on those youth group-aged kids, and I feel like our music and our band really connect with those same kids.
Ben: What do you think the legends who have been on ForeFront in the past would think of what your band does live?
Scott: I'd like to think they'd enjoy the show! All of them have been long-time performers, and I think they'd enjoy seeing us connect with the kids.
Ben: What feeling do you most long for when you first step off the stage?
Scott: Hmm ... Feeling, huh? Usually when we step off the stage we wish we could step back on and do it all again! We love putting on a show, and it's sad to have to pack it up for the night. On the positive side, after we get off the stage it's a great time to get back to the merch area or lobby and talk with some new fans, take pictures and throw out some high fives. We get a pretty big kick out of meeting new people.
Ben: Which lyric do you think will be the one that most of your fans quote?
Scott: One that we see posted on people's Facebook and MySpace pages is "There's gotta be a difference" from our song "The Difference." I think it's a song that speaks to a lot of people because everyone, no matter where they are in their faith walk, struggles with complacency from time to time. That's what "The Difference" is about-pushing your faith further in a way that the people around you will know what you believe in without them having to ask.
Ben: How difficult is it to be away from your wives/families, and what about being in the band makes it worth it?
Scott: It's a challenge to keep any type of relationship going while on the road. Since you're away so much, it requires a lot of work and a lot of time on the phone. I'm very fortunate in that my wife is on the road with us handling the road manager duties, so I don't have to say good-bye very often! However, our date nights usually consist of us sitting at a different table than the guys when we stop for dinner at Taco Bell!
Ben: Is there a song that you think encompasses what the band is trying to accomplish overall?
Scott: We have a song on our Oh Snap EP called "My Hippocratic Oath," where a doctor is telling a patient he is going to die but that he can fix him. All the patient has to do is say, "OK, fix me." The song is a parallel to a relationship with Jesus Christ. Without Christ, we are slaves to sin and can't even begin to save ourselves from it. To be freed, to be healed, all you have to do is accept Christ as your savior and enter into a relationship with Him. It's a free gift and an obvious choice, but people still struggle with taking that step.
Have something to say about this article? Leave your comment via Facebook below!
advertise with us
Example: "Gen 1:1" "John 3" "Moses" "trust"
Advanced Search
Listen to Your Favorite Pastors