A Fan's Guide to Christians in the General Market – Part 1
John J. Thompson, CCM Magazine
Tuesday, July 31, 2007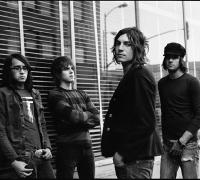 The last few years have seen a consistently increasing presence of Christian thought and inspiration in America's musical mainstream. Month after month new artists who happen to be Christians are making an impact far outside the borders of the Christian marketplace. In some cases every member of a band is a committed Christian, while in others, it is the bandleader or principal songwriter that brings the influence. Terminology, labels and marketing strategies aside, artists who are inspired and informed by a biblical perspective and a personal pursuit of God are challenging the presumptions of the past.
Whether writing about love, faith, politics or ethics, these artists are calling it like they see it. Just don't call them "A Christian Band."
AUGUSTANA - AUGUSTANAMUSIC.COM
The members of indie rockers Augustana joined together at the evangelical Greenville College before being signed by Sony Records a few years back. After years of touring and some serious traction for their single "Boston," guitarist Josiah Rosen left the band and is working on an indie Americana project called The Last Almanac.
AS I LAY DYING - ASILAYDYING.COM
Metalheads As I Lay Dying might be the most outspoken Christians never to have been signed to a Christian record label. Not only has their faith not hurt their mainstream success, but it actually seems to endear the band to hardcore fans in a counter-cultural rebellious kind of way. Unafraid to be upfront about their beliefs, and brutal in their delivery, the San Diego boys just earn more cred and respect.
DANIEL & NATASHA BEDINGFIELD
DANIELBEDINGFIELD.COM, NATASHABEDINGFIELD.COM
Siblings Daniel and Natasha Bedingfield have been tearing up radio charts around the world, and increasingly here in the States, while never shying away from their Christian backgrounds. Daniel sang backing vocals on Delirious' World Service (Sparrow) album a few years back, and Natasha wrote and recorded worship songs for Hillsong London's Shout God's Fame (Integrity) and other specifically Christian projects. Their parents were missionaries, and their continuing faith is demonstrated by their role as ambassadors for the Global Network, a children's ministry founded by their mother.
T-BONE BURNETT - TBONEBURNETT.COM
T-Bone Burnett has been impacting the culture as a songwriter, producer and band member since the early 1970s in ways few other artists ever will. From his days as a member of Bob Dylan's Rolling Thunder Review, to a string of rare, but amazing solo albums, and most recently his role as musical director on major films such as O Brother Where Art Thou and Cold Mountain, Burnett brings his faith with him in a deeply passionate and always challenging way. Burnett, who's also a former CCM contributing writer, captured the basic nature of the "Christians in Culture" conundrum when he said, "You can sing about the Light, or you can sing about what you see because of the Light. I prefer the latter."
JOHNNY CASH - JOHNNYCASH.COM
In "A Final Interview" with Lev Grossman, American icon Johnny Cash summed it up perfectly. "I'm an artist who is a Christian," he said. "I'm not a Christian artist." Cash's frequently dark country music explored the depths of human despair and the heights of transcendent love, often in the same song. Earning the respect of several generations of artists from every conceivable background, Johnny Cash certainly ranks among the most significant faith-fueled artists of the last century.
BRUCE COCKBURN - BRUCECOCKBURN.COM
Canadian singer/songwriter Bruce Cockburn is certainly one of the most influential modern folk artists of the last 30 years. His clearly faith-informed worldview is steeped in a passion for social justice and the pursuit of true inner peace in a world gone wrong. Though rarely involved in the Christian marketplace, Cockburn has not shied away from talking about his faith in interviews or in his songs. In 1993, his acclaimed Christmas album was distributed into the Christian market, as was his 1979 classic Dancing in the Dragon's Jaws (Columbia/Myrrh).
Have something to say about this article? Leave your comment via Facebook below!
advertise with us
Example: "Gen 1:1" "John 3" "Moses" "trust"
Advanced Search
Listen to Your Favorite Pastors