A Homecoming for Backstreet Boy Brian Littrell
Kristi Henson, CCM Magazine
Tuesday, August 08, 2006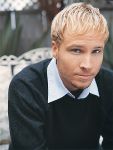 With such an outlook, it's not hard to understand why Brian Littrell is attracting attention in the Christian music marketplace. Although he is still very much a Backstreet Boy and has no plans to leave the group, with the recent high-profile release of his first solo project Welcome Home, Littrell has made a statement. He has chosen to put out a Christian record as his first solo album. Even if the music hadn't turned out to be so exceptional, that move alone would have spoken volumes.
But the music is exceptional, as well it should be considering the lineup of pros tapped to collaborate on it. Littrell worked with producers Billy Mann (Jessica Simpson, Ricky Martin), Dan Muckala (Backstreet Boys, Mandy Moore) and the team of Mark Kibble and Dave Thomas (Take 6) to craft a great AC/pop record. (And as a side note to those readers who, along with our editor, may be concerned about the lack of artist signings and releases forecasted for AC/pop this year, Littrell's record may be your saving grace!)
In addition to the title track, Littrell wrote or co-wrote six songs on "Welcome Home." Perhaps one of the most personal, though, is "We Lift You Up." In this cut, Littrell writes, "He opened up His precious hands and gave me a wife/And then He touched her deep down in her soul and gave me a son." Littrell, whose son, Baylee, is now 3 years old, actually wrote the song "years ago" before his son was ever born. According to Littrell, the song was written, "with the anticipation of maybe some day, you know, [my wife, Leighanne, and I] would have a son; [or] we would have a little girl. And obviously, lyrically the content wasn't really for a Backstreet Boys record. But I knew that it would be for my Christian record."
Also an obvious choice for the Christian record is "Jesus Loves You." Not only does it incorporate an all-time favorite children's song, "Jesus Loves Me," but it is also arranged a capella with Take 6's Kibble and Thomas spicing up the BGVs. Moreover, Baylee Littrell makes his big-time debut on this cut, front and back announcing the action.
Of course, we realize there may still be some skeptics who insist upon questioning Littrell's sincerity. Obviously, these individuals are not familiar with his background or his track record. And, here is my second confession. I'm also an album liner notes junkie. Yes, I read all the fine print from start to finish in the packaging of every album I get my hands on. So, since I've already noted that I own several Backstreet Boys records, it should come as no surprise when I tell you that – long before I knew anything of Brian Littrell's history (i.e., he grew up singing in Port Memorial Baptist Church in Lexington, Ky.) or of his desire to record a Christian album – I knew he was a Christian. See, he always made it abundantly clear in his "Thank You's." While many artists seem to offer the almost obligatory thanks to God in the liner notes and sometimes throw in a passing reference to a Bible verse, Littrell's credits were always straight-ahead and in-your-face…practically screaming that he's a Christian. He often devoted his allotted space to quoting scripture and offering sincere, heartfelt praise to the Father. For those who made note of that long ago, Littrell's entrée into the world of Christian music was not shocking.
In fact, in the first cut on the album (co-penned by Littrell), "My Answer Is You," Brian, himself, addresses any would-be detractors questioning his faith in light of his mega-success as a Backstreet Boy, professing, "And when those around me ask me why I dare to dream/Or why I love or why I sing/My answer is You…You're the hope that my heart is holding on to/Skeptics won't understand/It's strange from the world's point of view/My answer is You."
Have something to say about this article? Leave your comment via Facebook below!
advertise with us
Example: "Gen 1:1" "John 3" "Moses" "trust"
Advanced Search
Listen to Your Favorite Pastors