A Homecoming for Backstreet Boy Brian Littrell
Kristi Henson, CCM Magazine
Tuesday, August 08, 2006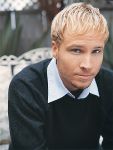 With such candid and transparent lyrical content, "Welcome Home" is sure to touch the hearts and lives of many listeners. But that's not news to those who know him well. Speaking of his Backstreet bandmates' reaction to the record, Littrell reports, "They know my heart. They know my story. They knew that if I ever stepped out, this would be the way that I would go. And it's been a long time in the making." Well, welcome home, Brian.
The Shape of Your Heart

For Brian Littrell and his Healthy Heart Club for Kids, it's a personal thing.

I was born with a heart murmur, which is a hole in your heart," Brian divulges as he sips his cappuccino. It's a comment that actually sounds rather poetic, considering the fact that he's alright now. But that wasn't always the case.

When he was 5 years old, Littrell skinned his knee while playing outside one day. No big deal, right? Usually not…but Brian developed a staph infection that went straight to his heart and did a number on him.

"They told my mom and dad that I had a zero percent chance of living," he muses. "There was a conversation that my mother was having with my grandmother, my dad's mom. My mom just really couldn't let go of me in that situation because I'm her baby. My grandmother turned to my mom and said, 'You know what, honey? He's not yours anyway.' And when that conversation took place in the hospital, that's when I started to get better – when my mom kind of realized that I was on loan to her anyway.  That's when the tests started to come back, and the infection started to go away…And it's truly a miracle that I'm here today.

"But then later on in life, we found that my heart was enlarging. And I knew I had a big heart," Brian laughs and does his own rim toss. But seriously, the hole in Littrell's heart had never closed up, and his condition was extremely serious.

"At age 23, I underwent open heart surgery," he recalls. "It was probably the toughest time in my life because, physically and mentally, I felt like I was in the best shape of my life. I was 23 years old! I was traveling around the world with the Backstreet Boys. And I think that God has used that as one of the biggest examples in my life, saying, 'You're not right inside. Let Me fix you and get you fixed. Then I'll let you go again.' It's always kept my feet on the ground, I think – understanding what's most important."

And thus was born the Healthy Heart Club for Kids. One of the main objectives of the organization is "to create a heart healthy awareness of a heart healthy lifestyle," enthuses Littrell. "Eating right. Holding each other accountable. Sons and daughters, the mothers and the fathers. Exercising. Getting out from under the TV. Getting outside and playing!" The program is geared toward children ages 8-12 who suffer from heart conditions or show signs of being at-risk for heart disease and seeks to educate them on the benefits of exercise and good nutrition. Counseling for these youngsters is also provided. While the eight-week program is free to all participants, membership requires a physician's referral.

Additionally, the Healthy Heart Club for Kids has a surgical assistance fund set up to aid families with seriously ill children. "Families have to travel across country sometimes to get the proper care for their children, but they can't get there because the insurance company hasn't paid for them to get there. [Insurance will] pay for the [medical] service and this and that, but they aren't going to pay for the flights and the hotels and the food and the gas," Littrell explains. The surgical assistance fund, however, is able to help with these costs.

For more information on Brian Littrell's Healthy Heart Club for Kids, visit healthyheartclub.org.


© 2006 CCM Magazine.  All rights reserved.  Used with permission.   Click here to subscribe.





Have something to say about this article? Leave your comment via Facebook below!
advertise with us
Example: "Gen 1:1" "John 3" "Moses" "trust"
Advanced Search
Listen to Your Favorite Pastors