A Music Fan's Guide to Christians in the General Market – Part 2
John J. Thompson, CCM Magazine
Tuesday, August 07, 2007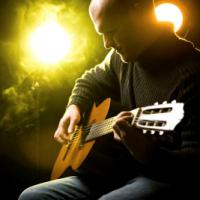 Recently we dropped our collective lines into the mainstream and took a look at a bevy of artists of faith thriving outside the confines of the Christian market subculture. We return to the stream once more for this second installment. Just as the independent music scene has taught us that not all great records come from big record companies, this growing list (definitely not exhaustive) reminds us that not all artists who are believers are working in the Christian music industry.
ASTRONAUT PUSHERS - MYSPACE.COM/ASTRONAUTPUSHERS
The Astronaut Pushers is actually a collective of several accomplished musicians. Matt Slocum (Sixpence None the Richer) plays guitar along with indie darling Sam Ashworth who also adds his breathy vocal style to the mix. Lindsay Jamieson (Ben Folds) plays drums, and acclaimed former Superdrag front-man John Davis holds down the bass. Though all members continue their "day jobs," the band did recently perform another highly touted show in Nashville.
MARY J. BLIGE - MJBLIGE.COM
Soul diva Mary J. Blige wears her faith, and her testimony, on her custom tailored couture. Her prodigal story is as powerful as her voice, and she never shies away from sharing her faith in the midst of the tawdry modern R&B scene that reveres her so deeply. Recounting her conversion for Oprah Winfrey, Blige said, "I invited Christ into one of my pity parties. . . . My life was spinning out of control, and I really needed God's love. And He gave me strength to start again and take control of my life."
DANIELSON - DANIELSON.INFO
There is nothing typical about Danielson or the band's prolific and enigmatic front-man Daniel Smith. More folk art practitioner than professional musician, Smith is bold about his faith and often abrasive in his elements, and, yet, mainstream audiences flock to see him in any of several configurations he puts together. A film on Smith and his "Famile," titled Danielson: A Family Movie, recently released on DVD and is a must-see for anyone interested in the intersection of faith and art.
JEREMY ENIGK - LEWISHOLLOW.COM
Jeremy Enigk's first band, Sunny Day Real Estate, practically invented emo music in the early '90s before his renewed faith led him to leave the band. Enigk continued to impact the alternative scene as a solo artist and as a member of The Fire Theft. Eventually, Sunny Day Real Estate reunited and Enigk maintains a solo career as well.
LIFEHOUSE - LIFEHOUSEMUSIC.COM
After meeting, and forming, as a youth worship band at their church (the Malibu Vineyard), the members of Lifehouse went on to score a massive mainstream pop hit, "Hanging by a Moment"—2001's most played song at radio. The band has continued to tour, record and release hit singles, never playing coy about its faith, while sidestepping the Christian market (though Lifehouse's records have managed to find their way to Christian bookstores through distribution deals). The band's fourth album, Who We Are (Geffen), dropped earlier this summer.
JOSH CATERER - DUVALLMUSIC.COM, SMOKINGPOPES.NET
Josh Caterer's band, The Smoking Popes, was packing out clubs and ruling college radio when he decided to close up shop in 1998 after embracing Christianity. He launched Duvall shortly thereafter, which had tenuous connections to the alternative fringes of the Christian market, but re-established The Popes last year when he realized that he could be a solid Christian, a worship leader and a member of a mainstream rock band.
MINDY SMITH - MINDYSMITH.NET
Though she originally came to Nashville to write songs with Susan Ashton, Mindy Smith learned enough about the Christian market as a songwriter to know it wouldn't be a fit for her. After years of club gigs and writing, she landed a deal with the mainstream Vanguard label and scored a solid "Triple A" radio hit with, ironically, one of the most boldly Christian songs of the last several years, "Come to Jesus." Smith followed that success with last year's Long Island Shores and another excellent faith-fueled song called "You Can Pray."
Have something to say about this article? Leave your comment via Facebook below!
advertise with us
Example: "Gen 1:1" "John 3" "Moses" "trust"
Advanced Search
Listen to Your Favorite Pastors