"Across the Sky" - Music Review
Jessica Robin

Music Reviewer

2003

8 Nov

COMMENTS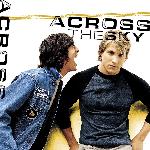 Artist:    Across the Sky
Label:  Word Records

Unlike popsters Evan and Jaron or even Nelson, the guys that go by the moniker Across the Sky are not twins. In fact, they aren't even related and were complete strangers until early 2002.

To hear them sing together, though, you'd never know it. Ben Kolarcik and Justin Unger harmonize on happy, pop songs with a slight country vibe.

Their soaring vocals are successful on upbeat tracks like "Give It All Away" and "Exciting Times" and on ballads "When I Open My Eyes" and "First Love Song."

Fans of Michael W. Smith will especially enjoy the cover of "Do You Dream of Me?" which will undoubtedly be played at weddings everywhere.

Copyright © 2003 CCM Magazine.  All rights reserved.   Used with permission.   Click  here to subscribe.