American Dreams
Robert Mineo, CCM Magazine
Monday, March 15, 2004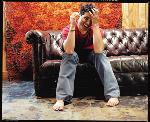 "American Idol" contestant R.J. Helton has apparently been asked this question before. "Simon's not as bad as he seems on TV," he offers before the query is ever made. He also reveals that Simon often complimented him after the end of an "American Idol" taping, much to the singer's chagrin. During a recent promotional tour, Helton stopped by the CCM offices for a friendly visit and to showcase songs from his debut release, "Real Life" (B-Rite), including final mixes he hadn't even heard yet. While our tendency may have been to feel sympathetic for this fourth-runner-up, who has now decided to make his foray into Christian music (of all things); he, on the other hand, carries no regret.
"When we [the other contestants] got to the top 10, we all realized we did not want to win because of what it would entail," he explains of the contractual obligations to which the singers would be held.
"I am actually glad I was No. 5; if I had been No. 4, I would have had to stay attached longer." (For the record, Helton is still friendly with "Idol" contestants Kelly Clarkson and Christina Christian and enjoys weekly Bible studies with Tamyra Grey when he's in Los Angeles.)
But, with his "American Idol Tour" long since completed, Helton is free of any obligation to the franchise's machine and is happily signed to Gospo-Centric's B-Rite label, home to artists such as Kirk Franklin, Byron Cage, Dorinda Clark-Cole and Kurt Carr. "Since Kirk [Franklin] broke down so many walls [between the mainstream and Christian markets], I knew that would be the label to go with," says Helton.
The fact that he signed with a Christian label comes as somewhat of a surprise, considering the offers he got from other mainstream labels. But when asked why he made the decision to enter the Christian market simultaneously with the mainstream, Helton recalls an experience from his "American Idol" days. "People magazine said the only thing limiting me was my devout Christianity. I am proud to be known in that way and know that God blesses those who are bold and speak who He is."
And while Helton has certainly proclaimed his faith in his songs, he hasn't created music that sounds like your typical Christian adult contemporary or even R&B fare. Drawing inspiration from four producers, including Tommy Sims (Kelly Clarkson, CeCe Winans), Reed Vertelney (Luther Vandross), Bernie Herms (Natalie Grant, Plus One) and New Tone Productions (Dana Glover, Black Eyed Peas, Eric Benet), to create "Real Life," Helton showcases his vocal chops and a writing ability that fall more in line with what's heard in the general market today – just with a more redemptive spin.
"My goal is to bring happy, good music to the mainstream," he says. "We're missing good influences. My message is that there is hope and to look above."
Helton is quick to give credit to the various producers on "Real Life" for the help to make that vision come into focus. "I made friends with them," he states. "[A few] really allowed me to break free. They helped me to be a man of God by showing me honesty and integrity as well as being there to pray, encourage and provide accountability."
Having that support was important, given the nature of some of the songs Helton co-wrote. One song in particular, "Delicate Child," reflects the freedom he feels after having dealt with the pain of child sexual abuse at the hand of a close family friend. "I did not really come to terms with it until my junior year of high school," he says. "Writing became part of the healing process for me."
Have something to say about this article? Leave your comment via Facebook below!
advertise with us
Example: "Gen 1:1" "John 3" "Moses" "trust"
Advanced Search
Listen to Your Favorite Pastors