BarlowGirl: Sisters, Friends and Super Chicks
Melissa Brock , CCM Magazine
Tuesday, January 17, 2006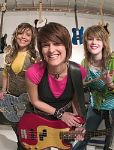 Female fronted Christian rockers Superchick debuted a song in 2001 called "Barlow Girls," a tribute to real-life sisters Alyssa, Becca and Lauren Barlow, after meeting them at a festival in Wisconsin. These lyrics introduced the siblings (not as a band) to the world – with quite the compliment to the Barlows' stand on purity – and three years later BarlowGirl went on to release its self-titled Fervent Records debut, becoming Christian music's best-selling new artist of 2004.
They've now sold more than 230,000 copies of "BarlowGirl," seen songs "Mirror" and "Never Alone" skyrocket up the Christian airplay charts, and received accolades aplenty. With the recent release of BarlowGirl's sophomore effort, "Another Journal Entry," we knew it was time to catch up with the increasingly popular trio.
And taking into account the special friendship between Superchick and 20–year old Lauren, 23–year old Alyssa and 25–year old Becca, we asked Superchick vocalist/guitarist Melissa Brock to sit down with the sisters and find out how they've grown up. ...
Melissa:  Since Superchick recorded the song "Barlow Girls," can you believe everything that's happened? Can you reminisce about how it all got started?
Lauren:  Five years ago, right? I think back in November of 1999 we were playing our first concert at LifeFest in Wisconsin and met your band and just really hit it off. A couple months later, you guys wrote a killer song about us. And I just remember going over to Max's house with your whole band, and you showed us the song. I remember sitting there and thinking, Did they just say "Barlow" in that song? We were so honored, and of course, we didn't know how to react in front of everybody. But later, when we got into the car, we screamed and cried a little because it was just such an honor; and we had lost a lot of our friends because of it.
Melissa:  Not because of the song, I hope!
Alyssa:  No! [laughing] No, through the years of taking that journey of purity, our friends didn't know how to respond; so some of them were a little more stand-offish in our friendship after that. So, once this song came out, it just seemed as if God was going, "Girls, I have a plan for your lives, and keep doing it!" And it was a big encouragement. For a long time, we would pop in the song and listen to it as we'd go places and say, "OK, God, You have a plan for our lives, and we're going to use this to encourage us."
Melissa:  How did you deal with the follow-up to your hugely successful first record?
Becca:  It was huge?
Melissa:  Hey, it was huge!
Alyssa:  I think the difference on this one was the recording process. We really wanted to try to tackle everything ourselves – from drums to guitars – everything. And so we told our producer [Otto Price] to really push us. It was a little bit harder because we were definitely stretched beyond what I thought we were capable of, but it was cool to see the persistence in training us; I think that it made us better musicians because of it, and I love that.
Becca:  Also, the first record you have your entire life to write; and this one we had nine months. We were trying to figure out, "OK, how are we going to do this? How are we going to make this work? How are we going to schedule writing so many hours a week and still try to grow in our personal lives and try to apply that in the songs?"
Melissa:  What are the most personal or most exciting songs on your new record?
Have something to say about this article? Leave your comment via Facebook below!
advertise with us
Example: "Gen 1:1" "John 3" "Moses" "trust"
Advanced Search
Listen to Your Favorite Pastors