BarlowGirl: Unfinished Business
Gregory Rumburg, CCM Magazine
Tuesday, August 14, 2007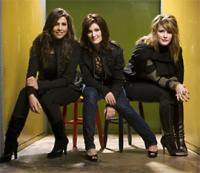 It's no longer business as usual for BarlowGirl.
Suffice to say there's been some good, old-fashioned house cleaning taking place on the heels of the band's most striking year yet.
On the road 228 days last year, these sisters—Alyssa, Lauren and Becca Barlow—pushed hard in support of their sophomore record, Another Journal Entry (Fervent), from which BarlowGirl's fourth No. 1 hit, "I Need You to Love Me," propelled the band to be recognized as one of Yahoo!'s Who's Next music artists in early '06. Later that track was dubbed Christian radio's most played CHR song of the year.
Keeping momentum going, BarlowGirl wrote its third record after their fall tour ended in November and, after the holidays, settled into a several-week stint in Nashville to record How Can We Be Silent, which streets on July 24. Simultaneously, the trio received its first "Group of the Year" GMA Dove Award nomination.
"We have loved every bit of it. If we had to do it all over again, we wouldn't change a thing," says Becca. "But I do love, now, getting into a different rhythm"—a change of pace that began with a "working" cruise soon after the group talked with CCM Magazine in April during Gospel Music Week. All its notoriety suggests BarlowGirl has earned some breathing room. Now, with deeper, established roots in the music scene, they can be more selective about their work schedule.
"We go out on the weekends and do three shows—Friday, Saturday and Sunday—and then we're home Monday through Thursday," Lauren says. "It's really cool to have so much time [at] home." Just in the nick of time, too. This past year, the women gained some much-needed perspective for themselves.
"We've realized what boundaries are this year," Becca explains, "how we're real people and we need to take time to do real things," like laundry, making your own bed and being home for more than 24 hours. Lauren sums up the matter, saying, "This past year has really been refreshing. We want to be a family again."
Turbulent Peace
The notion that this last year or so has been "refreshing" comes up several times during the interview, and one can't help but believe the group has been, indeed, reenergized to take care of business.
That has to do, in part, with the new home the family purchased this spring.
"We had two weeks off from making the album until we were going on the road again—and we had to move into our new house," Alyssa says, describing the back-to-nature, country property. That's two weeks to sort, box, move and unpack everything from a childhood home of 16 years.
"We decided that if we worked really hard moving that first week, then we'd get to relax the second week," Alyssa continues. "So the first week, even though it was strenuous, it was fun to paint the rooms together as a family and wallpaper as a family and unpack boxes. We went through old pictures. It reminded us, 'Oh, yeah, we don't always have to do business together. We are a family.'"
That two-week stretch was one of the longest at home the Barlows had been able to have together in nearly five years.
"We got everything done the first week, which was a miracle," Alyssa picks up, "so that next week we had so much family that would come by and ring the bell saying, 'We just thought we'd stop by.' We saw old friends, played games and people brought over ice cream."
Have something to say about this article? Leave your comment via Facebook below!
advertise with us
Example: "Gen 1:1" "John 3" "Moses" "trust"
Advanced Search
Listen to Your Favorite Pastors