Behind the Eyes of Fernando Ortega
Kierstin Berry, CCM Magazine
Tuesday, October 12, 2004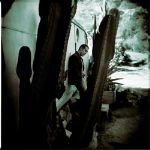 If you took a drive from Los Angeles down the coast toward San Diego, you'd pass through a quiet town called Laguna Beach. A far cry from the glitz of Hollywood, you'd find charming cottages on lush hillsides adorned with tropical flowers, mountain lions roaring from the canyon bluffs and craftspeople moving from place to place with the ease of a life by the sea. This is the town singer/songwriter Fernando Ortega calls "home."
Ortega needs this kind of picturesque landscape, not only for his peace of mind but as a resource for his visual style of songwriting. Away from what he calls the "hubbub of the city," Ortega seems content to step back and observe.
"There's plenty of music industry stuff 50 minutes north in Hollywood, but I live purposely away from all of that," Ortega says with a casual laugh. "Some people thrive in that competitive arena, but I do much better if I'm not caught up in the scene. There's an anxiety, even a desperation that goes with it that I'd rather not subject myself to."
It's not that Ortega doesn't face his share of anxiety. He's an incurable insomniac, conjuring lyric ideas while lying in bed at night, agonizing over life's usual worries or merely the fact that he can't seem to get any sleep. While awake, he listens for every sort of creature imaginable. And they have shown up in several songs on the artist's recent August release, a cast of characters that includes coyotes, dragonflies and other desert-dwellers he's gone lengths to analyze. Curiously, Ortega has chosen to self-title this album — his twelfth (but sixth major label release). And with this long overdue introduction of sorts, it makes sense that, on many levels, Ortega has been taking a good long look at his music and his surroundings.    
When Ortega phones for his interview, he is actually away from home in Vail, Colo., where he admits to be studying the cloudy sky at this very moment. Following a recent trip to Puerto Rico with his wife, Margee, and Billy Graham's daughter, Anne Graham Lotz (The artist and speaker recently teamed up for their 18th crusade.) as well as some work to make the final edits to his new DVD, Ortega has arrived in Vail two days before his scheduled concert to rehearse and soak up some scenery.
Instantly friendly, with a pleasant chuckle that shows he doesn't take himself too seriously, Ortega also has the air of an inner poet, seeming more aligned with complex, creative souls like Georgia O'Keefe and Beethoven than his peers in today's Christian music world.
"My wife and I are really into gardening," he explains right off the bat. "We live in a wooded area that's got its own little micro-climate. Most of the stuff we plant is Mediterranean succulents," Ortega continues, sounding a bit more like a botanist than a songwriter. "There's lots of wildlife where we live, and the town itself is an artist community with a lot of painters and potters. Last night my wife and I went to a craft fair just two blocks away from our house."
Sure, it seems like he's relaxing more than working these days; but, for an artist like Ortega, this is all just a part of his research. You can almost imagine him roaming barefoot along the shore, a notepad in one hand and a pencil behind his ear. But if the notion of a life so intentionally watchful still seems a bit blurry, its imprint can be found all over the songwriter's new project, his first on Curb Records.
A tune called "California Town" is a perfect example of Ortega's slicing his perceptions into songs that almost seem to happen as you listen. This one, in particular, takes a romantic stroll downtown with Margee to find a quiet restaurant where they can talk. It's this kind of casualness, a laidback approach to success, that helps the artist see through the residue of life to something more important.
Have something to say about this article? Leave your comment via Facebook below!
advertise with us
Example: "Gen 1:1" "John 3" "Moses" "trust"
Advanced Search
Listen to Your Favorite Pastors