Bethany Dillon: Who's That Girl?
Christa Farris, CCM Magazine
Tuesday, August 30, 2005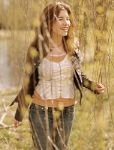 In just over a year's time, Bethany Dillon has managed to turn quite a few heads with the critical and commercial success of her self-titled debut and a maturity far beyond her years. Now with the release of her stellar sophomore record, Imagination (Sparrow), an opening slot on Jeremy Camp's next tour and a song on the upcoming "Narnia" soundtrack, her momentum continues to build. So how does an "It Girl" stay grounded in the midst of all these recent accomplishments? CCM's Christa Farris travels the nearly 800 miles from Music City to Bethany's hometown of Bellefontaine, Ohio to find out. …
OK, so it's not exactly the kind of romantic masterpiece that'll be covered by someone like Celine Dion and sung at weddings for years to come. But 16-year-old Bethany Dillon remembers her first stab at songwriting, in all its puppy-love, made-up word glory (lullabydo, anyone?) like it was yesterday."
"One day I was in my room, and Mom was vacuuming. I wanted to write this love song, so I did. It's actually very jazzy," Bethany recalls. "I was six and thought it was very, very cool."
Did she really say she was only six?
"Oh yeah — I was writing purely from experience at that age," she jokes. "Actually I was such a drama queen. I had older siblings, so I felt so immersed in the adult world already. I just felt like I could write that song with honesty for some reason."
Apparently, this lyrical instinct was foreshadowing — or at least the first sign — of a promising future for this burgeoning songwriter.
Even at a young age, Bethany was pretty secure in her identity. One thing she knew for sure was that she wasn't going to be a Britney Spears, pop-star protégé. Anything even remotely artificial just didn't fit. And only moments after meeting her at her parents' house in the quiet, corn-lined countryside of Bellefontaine, Ohio, it becomes even more apparent why that is. Nearly make-up free and naturally pretty, she's the kind of girl who prefers flip flops, shorts and a simple T-shirt to anything fussy. You won't see her lugging around the latest designer bag or sporting extraneous jewelry, either. Flashy is just not her style, which is something that also probably had a lot to do with growing up in a small town with a house full of brothers (three to be exact), in addition to her older sister, Kate.
It was also this close-knit kinship with her brothers that caused Bethany to pick up a guitar rather than take the requisite piano lessons. "My brothers Ben and Matt were my age growing up, so I loved being the tomboy," Bethany says. "The only people I knew who played guitar were boys. So I was like, 'That's the ultimate tomboy thing to do.'"
Bethany picked up her first guitar, a gift from her aunt Deb, when she was 11. It was a bright blue Yamaha that she affectionately named Esther. "I remember when I walked in the house and saw it. I'm a bit of an over-reactor, so I threw myself on the floor in the hall and was just screaming," Bethany recalls. "I ran to my aunt and hugged her. It was this $20 guitar, but it was just really special to have as my first."
While "Esther" is now long gone in favor of her dad's guitar (which she wasn't allowed to play until recently), Bethany says that "she was the beginning" of her journey as a musician. As it turns out, another important female was also quite instrumental early on.
The Road to Kansas
"A friend of mine had a tape of Jennifer Knapp's 'Kansas.' I was over at her house spending the night, and she put it on," Bethany remembers. "I was just floored. I was 10 then, and I was so inspired. It was definitely a major point in my faith — and in my life. God did a lot through that record in me. And because Jennifer was this rocker chick with attitude and a singer/songwriter, I was like, 'Man, I need to be cool and play guitar like that.'"
Have something to say about this article? Leave your comment via Facebook below!
advertise with us
Example: "Gen 1:1" "John 3" "Moses" "trust"
Advanced Search
Listen to Your Favorite Pastors