Beyond the Kiss
Darrell A. Harris, Contributing Writer
Wednesday, October 23, 2002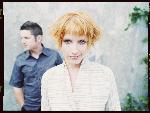 After six years of the somewhat mediocre success that for many Christian bands is the highest level of popularity ever achieved, Sixpence None the Richer woke up one morning in 1999 and discovered that it had a global hit single.  A band that was known among its most loyal fans for depth, spirituality and thought-provoking lyrics suddenly found itself recognized all over the world as the performer of a pop love song. 
Three years later, the band looks back on a type of success that it once could not have expected or even imagined.  Sixpence has headlined with a who's who list of class-A talent and shared the red carpet with Hollywood's elite.  Leigh Nash, lead singer of the sextet, has been judged by "E's" Joan Rivers for her fashion sense (and passed).  Matt Slocum, instrumentalist and primary songwriter, is "all the richer" now, thanks to Sixpence's if-I-hear-it-again-I'll-scream "Kiss Me."  But in the transition from relative anonymity to the conquest of MTV and VH1, Sixpence refuses to lose sight of the things that are most important.
Divine Discontent
"To be discontented with the divine discontent, and to be ashamed with the noble shame, is the very germ of the first upgrowth of all virtue."
—Charles Kingsley 1819-1875
"Divine discontent" is one of those surfacing phrases that could well become a buzz-term of this postmodern era.  For the title of its new recording, the first in five years, Sixpence chose a phrase describing what Slocum refers to as "a positive dis-ease, a restlessness leading to a doorway to something new and better."  He and Nash both believe that "without pain and other difficult situations, we tend not to grow and change for the good.  A lot of songs we've recorded here have a fascination with the fact that God would strike you down, and then raise you back up," says Slocum.  "It's our attempt to make sense of some of the suffering."
As a band, Sixpence has had its share of difficulties.  Since the breakthrough success of its self-titled disc in 1999, the ground has shifted around them.  Sixpence's record company was purchased by Warner Bros.  The band's management has changed.  And no matter what might be gained in that process, such transitions are always trying.  There has been loss in relationships, both professional and personal.  Through all of that, it is impressive—and somewhat befuddling—that neither Nash nor Slocum grumble or whine.  They have been discovering along the way that grace often strikes when we are in pain.
But of course it's the personal losses that hit closest to home.  With transparent simplicity, Nash comments on the relational dilemmas described in her song, "Down and Out of Time."
"It's about the difficulties and differences in some relationships very dear to me all coming to roost one weekend," she says.  "The lyrics about me 'aiming my cannon ready or not, you feeling my pain like it or not,' are about me overdoing it, being a terrorist in my own way.  And the line that says 'Your mystery is not worth being solved' is about one person deciding that working it out with another is just not worth it.  It's a very needy song."
If such a painful song is about personal experience, then Nash wears her scars with uncanny grace.  After the past few years, all of the members of Sixpence are familiar with the heartache of broken relationships.  But it's just such experiences that motivate the band to use its newfound influence in serving the needs around it rather than merely enjoying its success.
Have something to say about this article? Leave your comment via Facebook below!
advertise with us
Example: "Gen 1:1" "John 3" "Moses" "trust"
Advanced Search
Listen to Your Favorite Pastors