Beyond the Kiss
Darrell A. Harris, Contributing Writer
Wednesday, October 23, 2002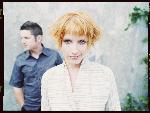 Beyond the Music
And the King will answer them, 'Truly I tell you, just as you did it to one of the least of these who are members of my family, you did it to me."'(Matthew 25:40 NRSV)
It has been said that with great blessing comes great responsibility, even if we don't always behave as if it does.  Great blessing has come to Sixpence None the Richer both artistically and commercially.  And this band is determined not to evade the attendant responsibility.
Some of the primary words that are translated "ministry" and "minister," in both Old Testament and New, literally mean "service" and "servant."  Showing compassion to another in an area of real need opens the recipient up to God's love like nothing else on the planet can.
When Jesus told the well-known story of the good Samaritan, He redefined the concept of "neighbor" for all time.  The neighbor is not just the one from whom we borrow a CD or DVD or to whom we loan the proverbial cup of sugar.  It is the one who is in need of help, whoever or wherever he or she might be.
One of the ways Sixpence None the Richer, along with other artists, is seeking to show compassion is by supporting DATA (Debt, AIDS and Trade in Africa).  You may have heard U2's Bono promoting this cause on a video that aired at many Christian music festivals this past summer.  DATA is an effort to promote awareness and mobilize action to turn the tide of suffering in sub-Saharan Africa, so savagely beset by AIDS, hunger and poverty.  Slocum believes that "with success comes responsibility.  We must use our resources to serve in our local and global communities.  Through our involvement with DATA, Sixpence has the opportunity to join our small voice with others in raising awareness of the AIDS crisis in Africa."
But Sixpence is also alert to the needs of neighbors a little closer to home.  In East Nashville, an underprivileged child will soon be receiving lessons on a borrowed violin that she could never afford, thanks to the new East Nashville Center for the Creative Arts, which Slocum helped to launch.  More importantly, she will get a glimpse of God's love for her because it was in His name that someone noticed her and offered a helping hand.
Finding Their Place in the Mainstream?
"That art is best which to soul's range gives no bound.  Something beyond the form; something beyond the sound."
—8th Century Proverb
Sixpence officially became a part of mainstream pop culture nearly four years ago, but Divine Discontent will be its first release in five years when it hits shelves on Oct. 29.  In the past, the band received its share of criticism from the Christian industry for "crossing over" with a song that talks unapologetically about a relationship between two people in love.  How meaningful is this call to local and global social action if it's coming from a band with little more to say than just, "Hey, 'Kiss Me'"?  But Nash has a stinging refute for past criticisms.
"We have a lot to say," she insists.  "We just need to be given a chance.  We hope people will slow down, look at what we're doing and give us that chance.  Criticism of 'Kiss Me' and 'There She Goes' felt a little premature to me.  They're just singles; they're harmless.  We have a lot more to say.  We just hope the critics will chill out a bit and let us do what we need to do."
Nash also addresses the question of Sixpence's success in the mainstream.  "We definitely have roots in the Christian music scene," she asserts.  "But we just wanted to make music that conveys our faith and uses our talents.  This resulted in success on the 'other side.'  We never really had that much success in the Christian field until the last recording.  So, in a sense, we didn't 'cross over.'  We just happened to make a recording that succeeded in both the sacred and secular markets at the same time."
Have something to say about this article? Leave your comment via Facebook below!
advertise with us
Example: "Gen 1:1" "John 3" "Moses" "trust"
Advanced Search
Listen to Your Favorite Pastors